insurance
13th February 1970
Page 54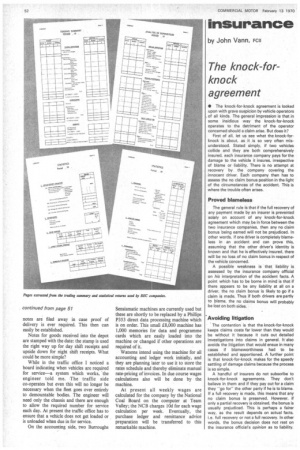 Page 54, 13th February 1970 —
insurance
Close
by John Vann, FCII
The knock-for knock agreement
• The knock-for-knock agreement is looked .upon with grave suspicion by vehicle operators , of all kinds. The general impression is that in some insidious way the knock-for-knock operates to the detriment of the operator concerned should a claim arise. But does it?
First of all, let us see what the knock-forknock is about, as it is so very often misunderstood. Stated simply, if two vehicles collide and they are both comprehensively insured, each insurance company pays for the damage to the vehicle it insures, irrespective of blame or liability. There is no attempt at recovery by the company covering the innocent driver. Each company then has to assess the no claim bonus position in the light of the circumstances of the accident. This is where the trouble often arises.
Proved blameless
The general rule is that if the full recovery of any payment made by an insurer is prevented solely on account of any knock-for-knock agreement which may be in force between the two insurance companies, then any no claim bonus being earned will not be prejudiced. In other words, if one driver is completely blameless in an accident and can prove this, assuming that the other driver's identity is known and that he is effectively insured, there will be no loss of no claim bonus in respect of the vehicle concerned.
A possible weakness is that liability is assessed by the insurance company official on his interpretation of the accident facts. A point which has to be borne in mind is that if there appears to be any liability at all on a driver, the no claim bonus is likely to go if a claim is made. Thus if both drivers are partly to blame, the no claims bonus will probably be lost on both sides.
Avoiding litigation
r The contention is that the knock-for-knock keeps claims costs far lower than they would be without it because it cuts out detailed investigations into claims in general. It also avoids the litigation that would ensue in many cases if blameworthiness had to be established and apportioned. A further point is that knock-for-knock makes for the speedy settling of damage claims because the process is so simple.
A handful of insurers do not subscribe to knock-for-knock agreements. They don't believe in them and if they pay out for a claim they "go for" the other party if he is to blame. If a full recovery is made, this means that any no claim bonus is preserved. However, if only a partial recovery is obtained, the bonus is usually prejudiced. This is perhaps a fairer way, as the result depends on actual facts. i.e. full recovery or not a full recovery. In other words, the bonus decision does not rest on the insurance official's opinion as to liability.