meet
13th February 1970
Page 44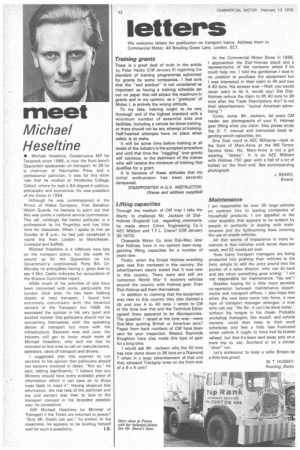 Page 44, 13th February 1970 —
meet
Close
Michael Heseltine
• Michael Heseltine, Conservative MP for Tavistock since 1966, is now the front bench Opposition spokesman on transport. At 36 he is chairman of Haymarket Press and a professional politician. It was for this latter role that he studied at Pembroke College, Oxford, where he took a BA degree in politics, philosophy and economics. He was president of the Union in 1954.
Although he was commissioned in the Prince of Wales Company, First Battalion Welsh Guards, he hastens to point out that this was purely a national service commission. This tall, strikingly fair-haired politician is a professional to his fingertips and has little time for relaxation. When I spoke to him on Sunday at 8 p.m., he had just completed a round trip from London to Manchester, Liverpool and Suffolk.
Michael Heseltine is a relatively new boy on the transport scene, but this week he wound up for the Opposition on the Government's controversial Ports Bill. On Monday he anticipates having a great deal to say if Mrs. Castle indicates her acceptance of the Bristow Committee report, While much of his activities of late have been concerned with ports, particularly the London dock area, he has been looking closely at road transport. I found him extremely conversant with the detailed content of the Transport Act 1968. He expressed the opinion in his very quiet and studied manner that politicians should not be concerning themselves with the operating details of transport but more with the infrastructure. Between now and June, the industry will get to know much more of Michael Heseltine, who told me that he intended to find time to call on manufacturers, operators, users of transport and drivers.
I suggested that this seemed to run contrary to his opinion that politicians should not become involved in detail. "Not so," he said, adding significantly: "I believe that any Ministry should have every available piece of information which it can pass on to those most likely to need it". Having obtained this information, the real task of the politician and the civil servant was then to look at the transport concept in the broadest possible way, he considered.
Will Michael Heseltine be Minister of Transport if the Tories are returned to power? "Only Mr. Heath can say," he smiled. In the meantime, he appears to be briefing himself
well for such a possibility. 1.S.