London's double-deckers a hallmark
13th February 1970
Page 36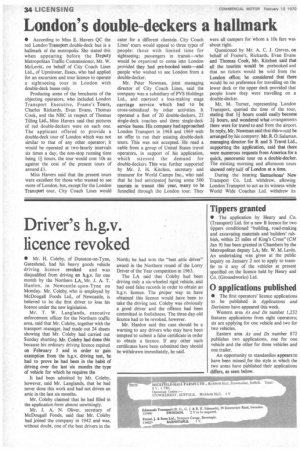 Page 37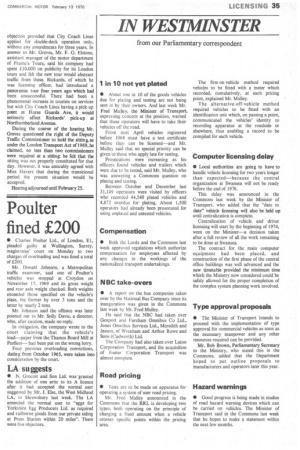 Page 36, 13th February 1970 —
London's double-deckers a hallmark
Close
• According to Miss E. Havers QC the red London Transport double-deck bus is a hallmark a the metropolis. She stated this when appearing before the Deputy Metropolitan Traffic Commissioner, Mr. W. McLevitt, on behalf of City Coach Lines Ltd., of Upminster, Essex, who had applied for an excursion and tour licence to operate a sightseeing tour in London with double-deck buses only.
Producing some of the brochures of the objecting operators, who included London Transport Executive, Frame's Tours, Charles Rickards, Evan Evans, Thomas Cook, and the NBC in respect of Thomas Tilling Ltd., Miss Havers said that pictures of red double-deckers were on each one. The applicant offered to provide a double-deck tour of London which was not similar to that of any other operator; it would be operated at two-hourly intervals six times a day, the non-stop running time being If hours, the tour would cost lOs as against the cost of the present tours of around £.1.
Miss Havers said that the present tours were excellent for those who wanted to see more of London, but, except for the London Transport tour, City Coach Lines would cater for a different clientele. City Coach Lines' tours would appeal to three types of people: those with limited time for sightseeing; passengers in transit—who would be organized to come into London provided they had pre-booked seats—and people who wished to see London from a double-decker.
Mr. Peter Newman, joint managing director of City Coach Lines, said the company was a subsidiary of PVS Holdings Ltd., and operated a loss-making stage carriage service which had to be cross-subsidized by other activities. It operated a fleet of 20 double-deckers, 23 single-deck coaches and three single-deck service buses. His company had approached London Transport in 1968 and 1969 with an offer to run their existing double-deck tours. This was not accepted. He read a cable from a group of United States travel operators, in support of his application, which stressed the demand for double-deckers. This was further supported by Mr. J. H. Kitchen, secretary and treasurer for World Camps Inc., who said that he had anticipated having some 500 tourists in transit this year, many to be funnelled through the London tour. They
were all campers for whom a 10s fare was about right.
Questioned by Mr. A. C. J. Greves, on behalf of Frame's, Rickards, Evan Evans and Thomas Cook, Mr. Kitchen said that all the tourists would be prebooked and that no tickets would be sold from the London office; he considered that there would be no preference for travelling on the lower deck or the upper deck provided that people knew they were travelling on a double-decker.
Mr. M. Turner, representing London Transport, queried the time of the tour, stating that I; hours could easily become 21 hours, and wondered what arrangements there were for travel to and from the airport. In reply, Mr. Newman said that this would be arranged by his company. Mr. R. O. Salaman, managing director for R and S Travel Ltd., supporting the application, said that there were numerous requests from America for a quick, panoramic tour on a double-decker. The existing morning and afternoon tours showed only half of London at a time.
During the hearing Samuelsons' New Transport Co, Ltd. withdrew, allowing London Transport to act as its witness while World Wide Coaches Ltd. withdrew its
objection provided that City Coach Lines applied for double-deck operation only, without any amendments for three years. In answer to Mr. Greves, Mr. F. G. Elstone, assistant manager of the motor department of Frame's Tours, said his company had spent £10,000 on publicity for its London tours and felt the new tour would abstract traffic from these. Rickards, of which he was licensing officer, had introduced a panoramic tour four years ago which had been unsuccessful. There had been a phenomenal increase in tourists on services but with City Coach Lines having a pick-up point at Horse Guards Ave, it would seriously affect Rickards' pick-up at Northumberland Avenue.
During the course of the hearing Mr. Greves questioned the right of the Deputy Traffic Commissioner to hold the sitting, as under the London Transport Act of 1969, he chimed, no less than two commissioners were required at a' sitting he felt that the sitting was not properly constituted for that day. However, it was amicably agreed with Miss Havers that during the transitional period the present situation would be accepted.
Hearing adjourned until February 25.