Modified to gain bus &rant
13th February 1970
Page 30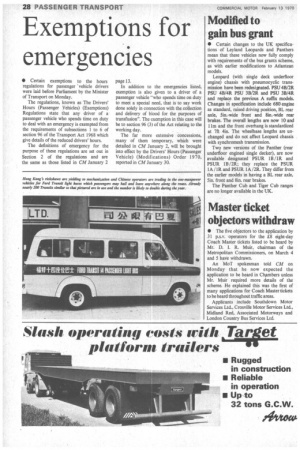 Page 30, 13th February 1970 —
Modified to gain bus &rant
Close
• Certain changes to the UK specifications of Leyland Leopards and Panthers mean that these vehicles now fully comply with requirements of the bus grants scheme, as with earlier modifications to Atlantean models.
Leopard (with single deck underfloor engine) chassis with pneumocyclic transmission have been redesignated. PSU 4B/2R PSU 4B/4R PSU 3B/2R and PSU 3B/4R and replace the previous A suffix models. Changes in specification include 680 engine as standard, raised driving position, BL rear axle, 5in.-wide front and Sin.-wide rear brakes. The overall lengths are now 10 and 11m and the front overhang is standardized at 7ft 4in. The wheelbase lengths are unchanged and do not affect Leopard chassis with synchromesh transmission.
Two new versions of the Panther (rear underfloor engined single decker), are now available designated PSUR 1B /1R and PSUR 1B /2R; they replace the PSUR IA /1R and PSUR 1A/2R. They differ from the earlier models in having a BL rear axle, Sin, front and 8in. rear brakes.
The Panther Cub and Tiger Cub ranges are no longer available in the UK.