Exemptions for emergencies
13th February 1970
Page 30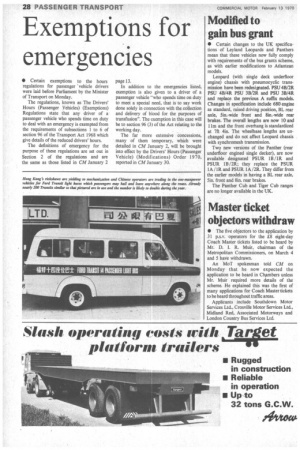 Page 30, 13th February 1970 —
Exemptions for emergencies
Close
• Certain exemptions to the hours regulations for passenger ' vehicle drivers were laid before Parliament by the Minister of Transport on Monday.
The regulations, known as The Drivers' Hours (Passenger Vehicles) (Exemptions) Regulations state that any driver of a passenger vehicle who spends time on duty to deal with an emergency is exempted from the requirements of subsections 1 to 6 of section 96 of the Transport Act 1968 which give details of the reduced drivers' hours.
The definitions of emergency for the purpose of these regulations are set out in Section 2 of the regulations and are the same as those listed in CM January 2 page 13.
In addition to the emergencies listed, exemption is also given to a driver of a passenger vehicle "who spends time on duty to meet a special need, that is to say work done solely in connection with the collection and delivery of blood for the purposes of transfusion". The exemption in this case will be to section 96 (3) of the Act relating to the working day.
The far more extensive concessions, many of them temporary, which were detailed in CM January 2, will be brought into effect by the Drivers' Hours (Passenger Vehicle) (Modifications) Order 1970, reported in CM January 30.