NCL campaigns for better parcels transit times
13th February 1970
Page 28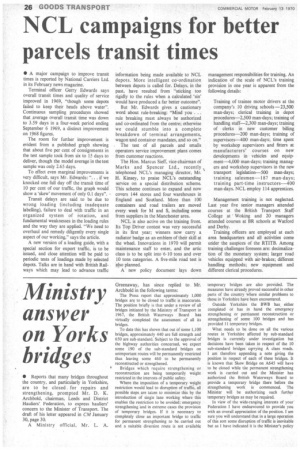 Page 28, 13th February 1970 —
NCL campaigns for better parcels transit times
Close
Keywords :
• A major campaign to improve transit times is reported by National Carriers Ltd. in its February news magazine.
Terminal officer Gerry Edwards says overall transit times and quality of service improved in 1969, "though some depots failed to keep their heads above water". Continuous sampling procedures showed that .average overall transit time was down to 3.59 days in a four-week period ending September 6 1969, a distinct improvement on 1968 figures.
The room for further improvement is evident from a published graph showing that about five per cent of consignments in the test sample took from six to 15 days to deliver, though the model average in the test sample was only 2.65 days.
To effect even marginal improvements is very difficult, says Mr. Edwards: "... if we knocked one full day off the transit time of 10 per cent of our traffic, the graph would show a 'skew' movement of only 0.1 days".
Transit delays are said to be due to wrong loading (including inadequate labelling), failure to deal with traffic in an organized system 'of rotation, and fundamental weaknesses in the loading rules and the way they are applied. "We need to overhaul and remedy diligently every single aspect of our working," says the article.
A new version of a loading guide, with a special section for export traffic, is to be issued, and close attention will be paid to periodic tests of loadings made by selected depots. Talks are in hand with British Railways which may lead to advance traffic information being made available to NCL depots. More intelligent co-ordination between depots is called for. Delays, in the past, have resulted from "sticking too rigidly to the rules when a calculated 'sin' Would have produced a far better outcome".
But Mr. Edwards gives a cautionary word about rule-breaking: "Mind you . . . rule breaking must always be authorized and co-ordinated from the centre; otherwise we could stumble into a complete breakdown of terminal arrangements, wagon and container mandates, and so on." . The test of all parcels and smalls operators service improvement plans comes from customer reactions.
The Hon. Marcus Sieff, vice-chairman of Marks and Spencer Ltd., recently telephoned NCL's managing director, Mr. H. Kinsey, to praise NCL's outstanding service on a special distribution scheme. This scheme continues to expand and now covers 144 stores and four warehouses in England and Scotland. More than 100 containers and road trailers are moved every week for M and S, including some from suppliers in the Manchester area.
NCL is also active on the training front. Its Top Driver contest was very successful in its first year; winners now carry a radiator badge as an emblem of their skill at the wheel. Innovations in 1970 will permit maintenance staff to enter, and the artic class is to be split into 6-10 tons and over 10 tons categories. A five-mile road test is also planned.
A new policy document lays down management responsibilities for training. An indication of the scale of NCL's training provision in one year is apparent from the following details: Training of trainee motor drivers at the company's 10 driving schools-23,500 man-days; clerical training in depot procedures-2,500 man-days; training of handling staff-2,300 man-days; training of clerks in new customer billing procedures-200 man-days; training of supervisors-400 man-days; time spent by workshop supervisors and fitters at manufacturers' courses on new developments in vehicles and equipment-4,000 man-days; training managers and workshop supervisors in the new transport legislation-500 man-days; training salesmen—I87 man-days; training part-time instructors-400 man-days. NCL employ 114 apprentices.
Management training is not neglected. Last year five senior managers attended courses at the British Transport Staff College at' Woking and 20 managers attended courses at BR schools at Watford and Derby.
Training officers are employed at each area headquarters and all activities come under the auspices of the RT1TB. Among training challenges foreseen are: decimalization of the monetary system; larger road vehicles equipped with air-brakes; different handling methods; new equipment and different clerical procedures.