Ministry answer on Yorks bridges
13th February 1970
Page 28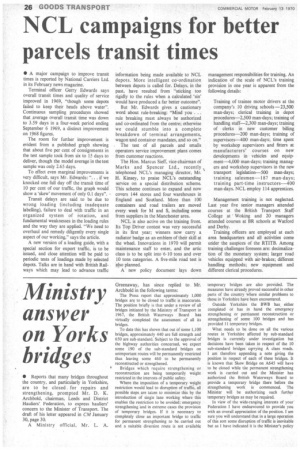 Page 29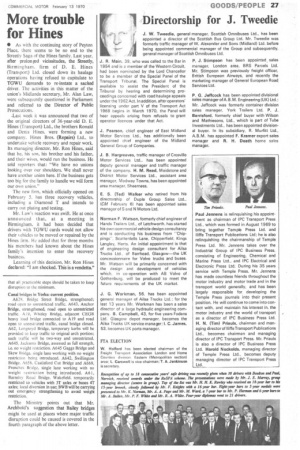 Page 28, 13th February 1970 —
Ministry answer on Yorks bridges
Close
• Reports that many bridges throughout the country, and particularly in Yorkshire, are to be closed for repairs and strengthening, prompted Mr, D. K. Archbold, chairman, Leeds and District Hauliers' Federation, to express hauliers' concern to the Minister of Transport. The draft of his letter appeared in CM January 30, page 30.
A Ministry official, Mr. L. A. Greenaway, has since replied to. Mr. Archbold in the following terms:
The Press report that approximately 1,000 bridges are to he closed to traffic is inaccurate. The position briefly is that under a review of all bridges initiated by the Ministry of Transport in 1967, the British Waterways Board has virtually completed the assessment of all its bridges.
To date this has shown that out of some 1,100 bridges, approximately 440 are full strength and 650 are sub-standard. Subject to the approval of the highway authorities concerned, we expect some 190 of the sub-standard bridges on unimportant routes will be permanently restricted thus leaving some 460 to be permanently reconstructed or strengthened.
Bridges which require strengthening or reconstruction are being temporarily weight restricted in the interests of public safety.
Where the imposition of a temporary weight restriction would lead to disruption of traffiC, all possible steps are taken to minimize this by the introduction of single lane working where this enables the restriction to he avoided; emergency strengthening -and in extreme cases the provision of temporary bridges. If it is necessary to completely close an important bridge to traffic for permanent strengthening to be. carried out and a suitable diversion route is not available temporary bridges are also provided. The measures have already proved successful in other parts of the country where similar problems to those in Yorkshire have been encountered.
Outside Yorkshire the BWB has either completed or has in hand the emergency strengthening or pernianent reconstruction or strengthening of some 100 bridges and has provided ii temporary bridges.
What needs to be done on all the various routes in Yorkshire affected by sub-standard bridges is currently under investigation but decisions have been taken in respect of the 10 sub-standard bridges cqrrying A class roads. I am therefore appending a note giving the position in respect of each of these bridges. It is known that Skew Bridge on A645 will have to be closed while the permanent strengthening work is carried out and the Minister has authorized the British Waterways Board to provide a temporary bridge there before the strengthening work is commenced. The Minister will be authorizing such further temporary bridges as may be required.
In view of the wide-ranging interests of your" Federation I have endeavoured to provide you with an overall appreciation of the position. I am sure you will understand that in a large operation of this sort some disruption of traffic is inevitable but as 1 have indicated it is the Minister's policy
that all practicable steps Should be taken to keep disruption to the minimum.
Canal bridges in Yorks: current position.
A629. Bridge Street Bridge, strengthened; road open to unrestricted traffic. A643, Anchor Bridge. strengthened, road open to unrestricted traffic. AIR, Whitley Bridge, adjacent GEGB heavy load bridge connected to A19 and road open to unrestricted traffic, canal bridge closed. A62, Longrovd Bridge, temporary kerbs will he provided to keep traffic to original arch portion; such traffic will be two-way and unrestricted. A645. Jacksoits Bridge, assessed as full strength, i.e. no weight restriction. A645 Gaggs Bridge and Skew Bridge, single lane working with no weight restrictior, being introduced. A642, Swillington Bridge, A656. Castleford Cut Bridge and A669, Frenches Bridge, single lane working with no
weight restriction being introduced. A61, Barnsley Road Bridge. Wakefield. temporarily restricted to vehicles with 3T axles or buses 4T axles; local diversion in use; BWB will be carrying out emergency strengthening to avoid weight restriction..
The Ministry points out that Mr. Archbold's suggestion that Bailey bridges might be used at places where major traffic disruption could be caused is covered in the fourth paragraph of the above letter.