Distribution by `Nightpak'
13th February 1970
Page 24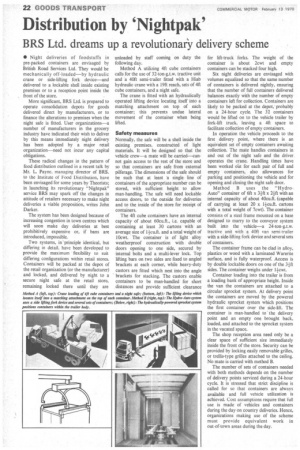 Page 24, 13th February 1970 —
Distribution by `Nightpak'
Close
BRS Ltd. dreams up a revolutionary delivery scheme
• Night deliveries of foodstuffs in pre-packed containers are envisaged by British Road Services Ltd. They would be mechanically off-loaded—by hydraulic crane or side-lifting fork device—and delivered to a lockable shell inside existing premises or to a reception point inside the front of the store.
More significant, BRS Ltd. is prepared to operate consolidation depots for goods delivered direct by manufacturers, or to finance the alterations to premises when the night safe is fitted. User organizations—a number of manufacturers in the grocery industry have indicated their wish to deliver by this means immediately night delivery has been adopted by a major retail organization—need not incur any capital obligations.
These radical changes in the pattern of food distribution outlined in a recent talk by Mr. L. Payne. managing director of BRS. to the Institute of Food Distribution, have been envisaged for some years by Theorists; in launching its revolutionary "Nightpak" service BRS may spark off the changes in attitude of retailers necessary to make night deliveries a viable proposition, writes John Darker.
The system has been designed because of increasing congestion in town centres which will soon make day deliveries at best prohibitively expensive or, if bans are introduced, impossible.
Two systems, in -principle identical, but differing in detail, have been developed to provide the maximum flexibility to suit differing configurations within retail stores. Containers will be packed at the depot of the retail organization (or the manufacturer) and locked, and delivered by night to a secure night safe, at the retail store, remaining locked there until they are
unloaded by staff coming on duty the following day.
Method A utilizing 411 cube containers calls for the use of 32-ton-g.t.w. tractive unit and -a 40ft semi-trailer fitted with a Hiab hydraulic crane with a 19ft reach, sets of 411 cube containers, and a night safe.
The crane is fitted with an hydraulically operated lifting device locating itself into a matching attachment on top of each container; this prevents undue lateral movement of the container when being lifted.
Safety measures
Normally, the safe will be a shell inside the existing premises, construoted of light materials. It will be designed so that the vehicle crew—a mate will be carried—cannot gain access to the rest of the store and so that containers are safe from external pilferage. The dimensions of the safe should be such that at least 'a single. line of containers of the appropriate number can be stored, with sufficient height to allow man-handling. The safe will need lockable access doors, to the outside for deliveries and to the inside of the store for receipt of containers.
The 4ft cube containers have an internal capacity of about 60cu.ft., i.e. capable of containing at least 30 cartons with an average size of lcu.ft. and a total weight of 10ewt. The container is of light alloy weatherproof construction with double doors opening to one side, secured by internal bolts and a multi-lever lock. Top -lifting bars on two sides are fixed to angled brackets at each corner, while heavy-duty castors are fitted which nest into the angle brackets for stacking. The castors enable containers to be man-handled for short distances and provide sufficient clearance
for lift-truck forks. The weight of the container is about 2cwt and empty containers can be stacked four high.
Six night deliveries are envisaged with volumes equalized so that the same number of containers is delivered nightly, ensuring that the number of full containers delivered balances exactly with the number of empty containers left for collection. Containers are likely to be packed at the depot, • probably on a 24-hour cycle. The 32 containers would be lifted on to the vehicle trailer by fork-lift truck, leaving a 4ft space to facilitate collection of empty containers.
In operation the vehicle proceeds to the first delivery point, where there is an equivalent set of empty containers awaiting collection. The mate handles containers in and out of the night safe and the driver operates the crane. Handling times have been worked out for each pair of full and empty containers, also allowances for parking and positioning the vehicle and for opening and closing the night safe door.
Method B uses the "HydroAuto" container of 6ft x 3f ft x 2,+ft with an internal capacity of about 40cult. (capable of carrying at least 20 x 14cu.ft. cartons with a total weight of 7cwt). The container consists of a steel frame mounted on a base designed to marry to the conveyor system built into the vehicle—a 24-ton-g.t.w. tractive unit with a 40ft van semi-trailer with a side-lifting fork device and several sets of containers.
The container frame can be clad in alloy, plastics or wood with a laminated Warerite surface, and is fully waterproof. Access is by double lockable doors on one of the 3+ft sides. The container weighs under *wt.
Container loading into the trailer is from a loading bank of appropriate height. Inside the van the containers are attached to a circular sprocket system. At delivery point the containers are moved by the powered hydraulic sprocket system which positions the first container over the side-lift. The container is man-handled to the delivery point and an empty one brought back, loaded, and attached. to the sprocket system in the vacated space.
The shop reception area need only be a clear space of sufficient size immediately inside the front of the store. Security can be provided by locking easily removable grilles, or trellis-type grilles attached to the ceiling. No mate is carried with method B.
The number of sets of containers needed with both methods depends on the number of delivery points serviced during a 24-hour cycle. It is stressed that strict discipline is called for so that containers are always available and full vehicle utilization is achieved. Cost assumptions require that full use is made of vehicles and containers during the day on country deliveries. Hence, organizations making use of the scheme must provide equivalent work in out-of-town areas during the day.