Learning through television
13th February 1970
Page 21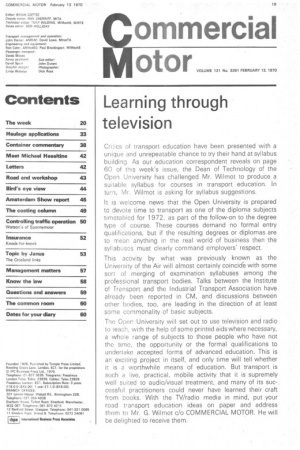 Page 21, 13th February 1970 —
Learning through television
Close
Critics of transport education have been presented with a unique and unrepeatable chance to try their hand at syllabus building. As our education correspondent reveals on page 60 of this week's issue, the Dean of Technology of the Open University has challenged Mr. Wilmot to produce a suitable syllabus for courses in transport education. In turn, Mr. Wilmot is asking for syllabus suggestions.
It is welcome news that the Open University is prepared to devote time to transport as one of the diploma subjects timetabled for 1972, as part of the follow-on to the degree type or course. These courses demand no formal entry qualifications, but if the resulting degrees or diplomas are to mean anything in the real world of business then the syllabuses must clearly command employers' respect.
This activity by what was previously known as the University of the Air will almost certainly coincide with some sort of merging of examination syllabuses among the professional transport bodies. Talks between the Institute of Transport and the Industrial Transport Association have already been reported in CM, and discussions between other bodies, too, are leading in the direction of at least some commonality of basic subjects.
The Open University will set out to use television and radio 10 leach, with the help of some printed aids where necessary, a whole range of subjects to those people who have not the time, the opportunity or the formal qualifications to undertake accepted forms of advanced education. This is an exciting project in itself, and only time will tell whether it is a worthwhile means of education. But transport is such a live, practical, mobile activity that it is supremely well suited to audio/visual treatment, and many of its suc-. cessful practitioners could never have learned their craft from books. With the TV/radio media in mind, put your road transport education ideas on paper and address them to Mr. G. Wilmot Uo COMMERCIAL MOTOR. He will be delighted to receive them.