Qis it permissible to drive an artic tractive unit without a .
13th December 1974
Page 44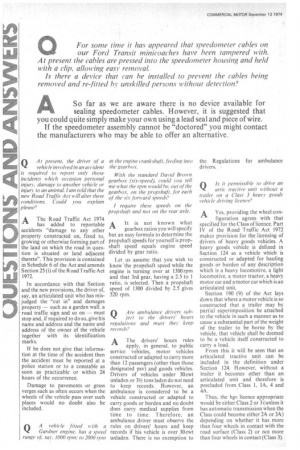 Page 44, 13th December 1974 —
Qis it permissible to drive an artic tractive unit without a .
Close
trader on a Class 3 heavy goods vehicle driving licence?
Yes, providing the wheel con figuration agrees with that specified for the Class of licence. Part IV of the Road Traffic Act 1972 makes provision for the licensing of drivers of heavy goods vehicles. A heavy goods vehicle is defined in Section 124 as a vehicle which is constructed or adapted for hauling goods or burden of any description which is a heavy locomotive, a light locomotive, a motor tractor, a heavy motor car and a motor car which is an articulited unit.
Section 190 (9) of the Act lays down that where a motor vehicle is so constructed that a trailer may by partial superimposition be attathed to the vehicle in such a manner as to cause a substantial part of the weight of the trailer to be borne by the vehicle, that vehicle shall be deemed to be a vehicle itself constructed to carry a load.
From this it will be seen that an articulated, tractive unit can be included in the definition under Section 124. However, without a trailer it becomes other than an articulated unit and therefore is precluded from Class 1, 1A, 4 and 4A.
Thus, the hgv licence appropriate would be either Class 2 or 3 (unless it has automatic transmission when the Class could become either 2A or 3A) depending on whether it has more than four wheels in contact with the road surface (Class 2) or not more than four wheels in contact (Class 3).