Q At present, the driver of a vehicle involved in
13th December 1974
Page 44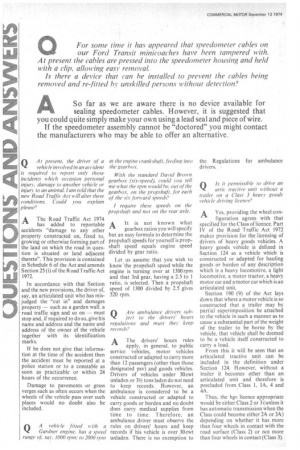 Page 44, 13th December 1974 —
Q At present, the driver of a vehicle involved in
Close
an accident Lc required to report only those incidents which occasion personal injury, damage to another vehicle or injury to an animal. lam told that the new 'Road Traffic Act will alter these conditions. Could you explain please?
A The Road Traffic Act 1974 has added to reportable accidents "damage to any other property constructed on, fixed to, growing or otherwise forming part of the land on which the road in question is situated or land .adjacent thereto". This provision is contained in Schedule 6 of the Act and amends Section 25(i) of the Road Traffic Act 1972.
In accordance with that Section and the new provisions, the driver of, say, an articulated unit who has misjudged the "cut in" and damages property — such as a garden wall, a road traffic sign and so on — must stop and, if required to do so, give his name and address and the name and address of the owner of the vehicle together with its identification marks.
If he does not give that information at the time of the accident then the accident must be reported at a police station or to a constable as soon as practicable or within 24 hours of the occurrence.
Damage to pavements '.or grass verges such as often occurs when the wheels of the vehicle pass over such places would no doubt also be included.