Overloading is simply not worth it
13th December 1974
Page 37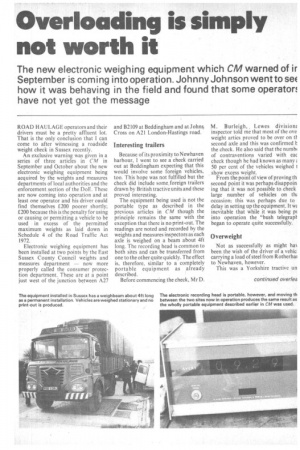 Page 38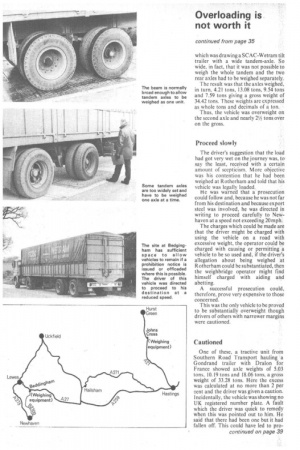 Page 41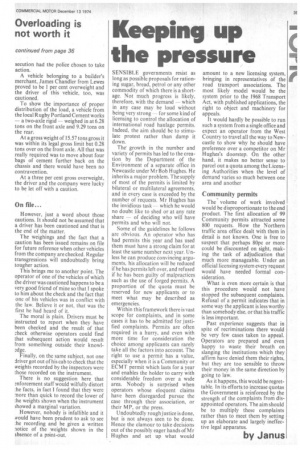 Page 37, 13th December 1974 —
Overloading is simply not worth it
Close
Keywords :
Land Transport
,
Transport
,
Trucks
,
Technology
,
Bridges
,
Truck Scale
,
Axle
,
Articulated Vehicles
,
Trucking Industry In The United States
,
Semi-trailer Truck
,
Weigh Station
The new electronic weighing equipment which CM warned of ir September is coming into operation. Johnny Joh nson went to se( how it was behaving in the field and found that some operator: have not yet got the message
ROAD HAULAGE operators and their drivers must be a pretty affluent lot. That is the only conclusion that I can come to after witnessing a roadside weight check in Sussex recently.
An exclusive warning was given in a series of three articles in CM in September and October about the new electronic weighing equipment being acquired by the weights and measures departments of local authorities and the enforcement section of the DoE. These are now coming into operation and at least one operator and his driver could find themselves £200 poorer shortly; £200 because this is the penalty for using or causing or permitting a vehicle to be used in excess of the permitted maximum weights as laid down in Schedule 4 of the Road Traffic Act 1972.
Electronic weighing equipment has been installed at two points by the East Sussex County Council weights and measures department — now more properly called the consumer protection department. These are at a point just west of the junction between A27 and B2109 at Beddingham and at Johns, Cross on A21 London-Hastings road.
Interesting trailers
Because of its proximity to Newhaven harbour, 1 went to see a check carried out at Beddingham expecting that this would involve some foreign vehicles, too. This hope was not fulfilled but the check did include some,foreign trailers drawn by British tractive units and these proved interesting.
The equipment being used is not the portable type as described in the previous articles in CM though the principle remains the same with the exception that there is no print-out. The readings are noted and recorded by the weights and measures inspectors as each axle is weighed on a beam about 4ft long. The recording head is common to both sites and can be transferred from one to the other quite quickly. The effect is, therefore, similar to a completely portable equipment as already described.
Before commencing the check, Mr D.
M. Burleigh, , Lewes division inspector told me that most of the ove weight artics proved to be over on tl. second axle and this was confirmed t the check. He also said that the numb of contraventions varied with eac check though he had known as many 50 per cent of the vehicles weighed 1 , show excess weight. From the point cif view a proving th second point it was perhaps disappoin ing that it was not possible to check large number of vehicles on thi occasion; this was perhaps due to delay in setting up the equipment. It inevitable that while it was being pi into operation the "bush telegraplbegan to operate quite successfully.
Overweight
Not as successfully as might hal, been the wish of the driver of a vehic carrying a load of steel from Rotherhai to Newhaven, however.
This was a Yorkshire tractive tin
which was drawing a SCAC-Wetram tilt trailer with a wide tandem-axle. So wide, in fact, that it was not possible to weigh the whole tandem and the two rear axles had to be weighed separately.
The result was that the axles weighed, in turn, 4.21 tons, 13.08 tons, 9.54 tons and 7.59 tons giving a gross weight of 34.42 tons. These weights are expressed as whole tons and decimals of a ton.
Thus, the vehicle was overweight on the second axle and nearly 2',6 tons over on the gross.
Proceed slowly
The driver's suggestion that the load had got very wet on the journey was, to say the least, received with a certain amount of scepticism. More objective was his contention that he had been weighed at Rotherham and told that his vehicle was legally loaded. He was warned that a prosecution could follow and, because he was not far from his destination and because export steel was involved, he was directed in writing to proceed carefully to Newhaven at a speed not exceeding 20 mph.
The charges which could be made are that the driver might be charged with using the vehicle on a road with excessive weight, the operator could be charged with causing Or permitting a vehicle to be so used and, if the driver's allegation about being weighed at Rotherham could be substantiated, then the weighbridge operator might find himself charged with aiding and abetting.
A successful prosecution could, therefore, prove very expensive to those concerned.
This was the only vehicle to be proved to be substantially overweight though drivers of others with narrower margins were cautioned.
Cautioned
One of these, a tractive unit from Southern Road Transport hauling a Gondrand trailer with Dralon for France showed axle weights of 5.03 tons, 10.19 tons and 18.06 tons, a gross weight of 33.28 tons. Here the excess was calculated at no more than 2 per cent and the driver was given a caution. Incidentally, the vehicle was showing no UK registered number plate. A fault which the driver was quick to remedy when this was pointed out to him. He said that there had been one but it had fallen off. This could have led to pro secution had the police chosen to take action.
A vehicle belonging to a builder's merchant, James Chandler from Lewes proved to be I per cent overweight and the driver of this vehicle, too, was cautioned.
To show the importance of proper distribution of the load, a vehicle from the local Rugby Portland Cement works — a two-axle rigid — weighed in at 6.28 tons on the front axle and 9.29 tons on the rear.
At a gross weight of 15.57 tons gross it was within its legal gross limit but 0.28 tons over on the front axle. All that was really required was to move about four bags of cement further back on the chassis and there would have been no contravention.
At a three per cent gross overweight, the driver and the company were lucky to be let off with a caution.
On file...
However, just a word about those cautions. It should not be assumed that a driver has been cautioned and that is the end of the matter.
The weighings and the fact that a caution has been issued remains on file for future reference when other vehicles from the company are checked. Regular transgressions will undoubtedly bring tougher action.
This brings me to another point. The operator of one of the vehicles of which the driver was cautioned happens to be a very good friend of mine so that I spoke to him about the check and the fact that one of his vehicles was in conflict with the law. Believe it or not, that was the first he had heard of it.
The moral is plain. Drivers must be instructed to report when they have been checked and the result of that check otherwise operators could find that subsequent action would result from something outside their knowledge.
Finally, on the same subject, not one Jriver got out of his cab to check that the weights recorded by the inspectors were those recorded on the instrument.
There is no suggestion here that :nforcement staff would wilfully distort :he facts, in fact I found that they were more than quick to record the lower of the weights shown when the instrument ;Flowed a marginal variation.
However, nobody is infallible and it would have been prudent to ask to see :he recording and be given a written lotice of the weights shown in the ibsence of a print-out.