Lively Lady
13th December 1974
Page 24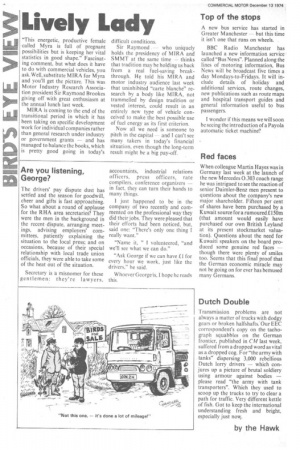 Page 24, 13th December 1974 —
Lively Lady
Close
"This energetic, productive female called Myra is full of pregnant possibilities but is keeping her vital statistics in good shape." Fascinating comment, but what does it have to do with commercial vehicles, you ask. Well, substitute MIRA for Myra and you'll get the picture. This was Motor Industry Research Association president Sir Raymond Brookes giving off with great enthusiasm at the annual lunch last week.
MIRA is coming to the end of the transitional period in which it has been taking on specific development work for individual companies rather than general research under industry or government grants — and has managed to balance the books, which is pretty good going in today's difficult conditions.
Sir Raymond who uniquely holds the presidency of MIRA and SMMT at the same time -thinks that tradition may be holding us back from a real fuel-saving break through. He told his MIRA and motor industry audience last week that uninhibited "carte blanche" research by a body like MIRA, not trammelled by design tradition or vested interest, could result in an entirely new type of vehicle conceived to make the best possible use of fuel energy as its first criterion.
Now all we need is someone to pitch in the capital — and I can't see many takers in today's financial situation, even though the long-term result might be a big pay-off.