Are you listening, George?
13th December 1974
Page 24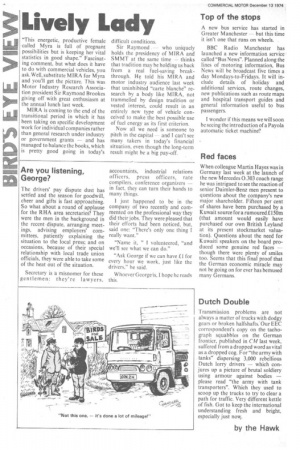 Page 24, 13th December 1974 —
Are you listening, George?
Close
The drivers' pay dispute dust has settled and the season for goodwill, cheer and gifts is fast approaching. So what about a round of applause for the RHA area secretaries? They were the men in the background in the recent dispute, arranging meetings, advising employers' committees, patiently explaining the situation to the local press; and on occasions, because of their special relationship with local trade union officials, they were able to take some of the heat out of the situation.
Secretary is a misnomer for these gentlemen: they're lawyers, accountants, industrial relations officers, press officers, rate compilers, conference organizers — in fact, they can turn their hands to many things.
I just happened to be in the company of two recently and commented on the professional way they did their jobs. They were pleased that their efforts had been noticed, but, said one: "There's only one thing I really want."
"Name it, " I volunteered, "and we'll see what we can do."
"Ask George if we can have k I for every hour we work, just like the drivers," he said.
Whoever Georgeis, I hope he reads this.