Lining wear indicator from SAD
13th December 1974
Page 23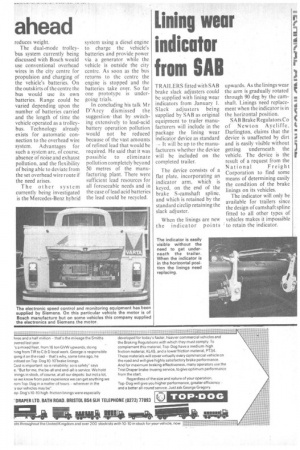 Page 23, 13th December 1974 —
Lining wear indicator from SAD
Close
TRAILERS fitted with SA B brake slack adjusters could be supplied with lining wear indicators from January 1. Slack adjusters being supplied by SAB as original equipment to trailer manufacturers will include in the package the lining wear indicator device as standard — It will be up to the manufacturers whether the device will be included on the completed trailer.
The device consists of a flat plate, incorporating an indicator arm, which is keyed, on the end of the brake S-camshaft spline, and which is retained by the standard circlip retaining the slack adjuster.
When the linings are new the indicator points upwards. As the linings wear the arm is gradually rotated through 90 deg by the camshaft. Linings need replacement when the indicator is in the horizontal position.
SA B Brake Regulators Co of Newton Aycliffe, Darlington, claims that the device is unaffected by dirt and is easily visible without getting underneath the vehicle. The device is the result of a request from the National Freight Corporation to find some means of determining easily the condition of the brake linings on its vehicles.
The indicator will only be available for trailers since the design of camshaft spline fitted to all other types of vehicles makes it impossible to retain the indicator.