Traffic Commissioners told Wallace Arnold is a brand leader
13th December 1974
Page 21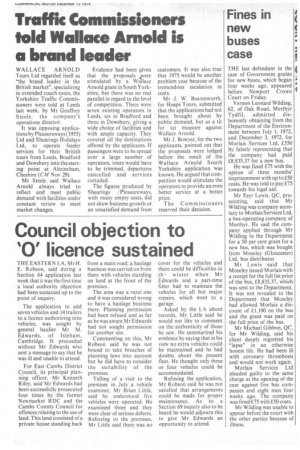 Page 21, 13th December 1974 —
Traffic Commissioners told Wallace Arnold is a brand leader
Close
WALLACE ARNOLD Tours Ltd regarded itself as "the brand leader in the British market", specializing in extended coach tours, the Yorkshire Traffic Commissioners were told at Leeds last week, by Mr Geoffrey Steele, the company's operations director.
It was opposing applications by Pleasureways (1955) Ltd and Shearings Holidays Ltd, to operate feeder services for their British tours from Leeds, Bradford and Dewsbury into the starting point at Altrincham, Cheshire (CM Nov 29).
Mr Steele said Wallace Arnold always tried to reflect and meet public demand with facilities under constant review to meet market changes. Evidence had been given that the proposals *were stimulated by a Wallace Arnold grant in South Yorkshire, but there was no real parallel in regard to the level of competition. There were seven existing operators in Leeds, six in Bradford and three in Dewsbury, giving a wide choice of facilities and with ample capacity. They covered all the destinations offered by the applicants. If passengers were to be spread over a large number of operators, tours would have to be trimmed, departures cancelled and services curtailed.
The figures produced by Shearings /Pleasureways, with many empty seats, did not show business growth or an unsatisfied demand from customers. It was also true that 1975 would be another problem year because of the tremendous escalation in costs.
Mr J. W. Bosomworth, for Heaps Tours, submitted that the applications had not been brought about by public demand, but as a tit for tat measure against Wallace Arnold.
Mr J. Bowyer, for the two applicants, pointed out that the proposals were lodged before the result of the Wallace Arnold South Yorkshire application was known. He argued that competition would stimulate the operators to provide an even better service at a better price.
The Commissioners reserved their decision.