Fines in new buses case
13th December 1974
Page 21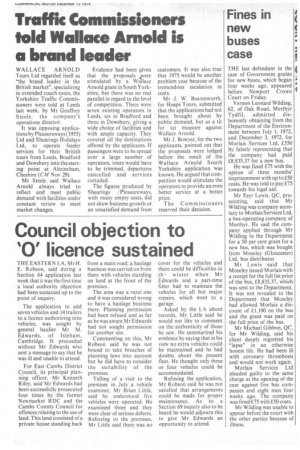 Page 21, 13th December 1974 —
Fines in new buses case
Close
THE last defendant in the case of Government grants for new buses, which began four weeks ago, appeared before Newport Crown Court on Friday.
Vernon Leonard Wilding, 62, of Oak Road, Merthyr Tydfil, admitted dishonestly obtaining from the Department of the Environment between July 1, 1972, and December 3, 1972, for Morlais Services Ltd, £550 by falsely representing that the company had paid £8,835.37 for a new bus.
He was fined £75 with the option of three months' imprisonment with up to £50 costs. He was told to pay £75 towards his legal aid.
Mr Esyr Lewis, QC, prosecuting, said that Mr Wilding was company secretary to Morlais Services Ltd, a bus-operating company of Merthyr. He said the company applied through Mr Wilding to the Department for a 50 per cent grant for a new bus, which was bought from Moseley (Gloucester) Ltd, bus distributor.
Mr Lewis said that Moseley issued Morlais with a receipt for the full list price of the bus, £8,835.37, which was sent to the Department. It was not revealed to the Department that Moseley had allowed Morlais a discount of £1,100 on the bus and the grant was paid on the full price of the bus.
Mr Michael Gibbon, QC, for Mr Wilding, said his client deeply regretted his "lapse" in an otherwise honest life. He had been ill with coronary thrombosis and would not work again.
Morlais Services Ltd pleaded guilty to the same charge at the opening of the case against five bus companies and eight men four weeks ago. The company was fined £75 with £50 costs.
Mr Wilding was unable to appear before the court with the other parties because of illness.