Council objection to '0' licence sustained
13th December 1974
Page 21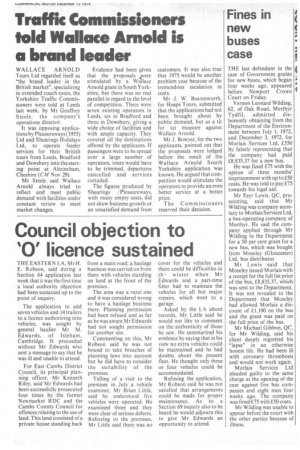 Page 21, 13th December 1974 —
Council objection to '0' licence sustained
Close
Keywords :
THE EASTERN LA, Mr H. F. Robson, said during a Section 64 application last week that it was the first time a local authority objection had been sustained up to the point of inquiry.
The application to add seven vehicles and 14 trailers to a licence authorizing nine vehicles, was sought by general haulier Mr M. Edwards, of Isleham, Cambridge. It proceeded without Mr Edwards who sent a message to say that he was ill and unable to attend.
For East Cambs District Council, its principal planning officer, Mr Kenneth Riley, said Mr Edwards had been successfully prosecuted four times by the former Newmarket RDC and the Cambs County Council for offences relating to the use of land. This land consisted of a private house standing back from a main road; a haulage business was carried on from there with vehicles standing on land at the front of the premises.
The area was a rural one and it was considered wrong to have a haulage business there. Planning permission had been refused and as far as he was aware Mr Edwards had not sought permission for another site.
Commenting on this, Mr Robson said he was not bound to take breaches of planning laws into account but he did have to consider the suitability of the premises.
Telling of a visit to the premises in July a vehicle examiner, Mr Brian Little, said he understood five vehicles were operated. He examined three and they were clear of serious defects. Referring to the premises, Mr Little said there was no cover for the vehicles and there could be difficulties in thwinter when Mr Edwards and a part-time fitter had to maintain the vehicles for all but major repairs, which went to a garage.
Asked by the LA about records, Mr Little said he would not like to comment on the authenticity of those he saw. He summarized his evidence by saying that in his view no extra vehicles could be maintained and he had doubts about the present fleet. He thought only three or four vehicles could be accommodated.
Refusing the application, Mr Robson said he was not satisfied that arrangements could be made for proper maintenance. As to a Section 69 inquiry also to be heard he would adjourn this to give Mr Edwards an opportunity to attend.