Motorway drag reducer could save 10pc of fuel
13th December 1974
Page 17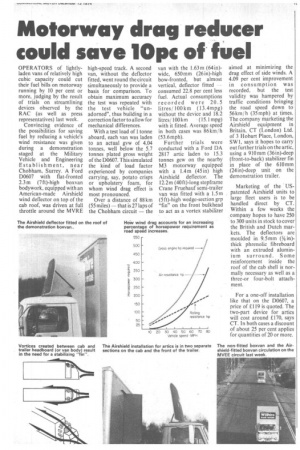 Page 17, 13th December 1974 —
Motorway drag reducer could save 10pc of fuel
Close
OPERATORS of lightlyladen vans of relatively high cubic capacity could cut their fuel bills on motorway running by 10 per cent or more, judging by the result of trials on streamlining devices observed by the RAC (as well as press representatives) last week.
Convincing evidence of the possibilities for saving fuel by reducing a vehicle's wind resistance was given during a demonstration staged at the Military Vehicle and Engineering Establishment, near Chobham, Surrey. A Ford D0607 with flat-fronted 2.3m (7 ft)-high boxvan bodywork, equipped with an American-made Airshield wind deflector on top of the cab roof, was driven at full throttle around the MVRE high-speed track. A second van, without the deflector fitted, went round the circuit simultaneously to provide a basis for comparison. To obtain maximum accuracy the test was repeated with the test vehicle "unadorned", thus building in a correction factor to allow for mechanical differences.
With a test load of 1 tonne aboard, each van was laden to an actual gvw of 4.04 tonnes, well below the 5.7 tonnes plated gross weight of the D0607. This simulated the kind of load factor experienced by companies carrying, say, potato crisps or upholstery foam, for whom wind drag effect is most pronounced.
Over a distance of 88km (55 miles) — that is 27 laps of the Chobham circuit — the van with the 1.63 m (64 in)wide, 650 mm (26 in)-high bow-fronted, but almost vertical, deflector fitted — consumed 22.8 per cent less fuel. Actual consumptions recorded were 20.5 litres/ 100 km (13.4mpg) without the device and 18.2 litres/ 100 km (15,1mpg) with it fitted. Average speed' in both cases was 86km/ h (53.6 mph).
Further trials were conducted with a Ford DA 2817 artic laden to 15.3 tonnes gcw on the nearby M3 motorway equipped with a 1.4m (45 in) high Airshield deflector. The 12.2m (40 ft)-long stepframe Crane Fruehauf semi-trailer van was fitted with a 1.5m (5 ft)-high wedge-section grp "fin" on the front bulkhead to act as a vortex stabilizer aimed at minimizing the drag effect of side winds. A 4.09 per cent improvement in consumption was recorded. but the test validity was hampered by traffic conditions bringing the road speed down to 56 km/h (35 mph) at times. The company marketing the Airshield equipment in Britain, CT (London) Ltd. of 3 Hobart Place, 1.ondon, SW1, says it hopes to carry out further trials on the artic, using a 910 mm (36 in)-deep (front-to-back) stabilizer fin in place of the 610 mm (24 in)-deep unit on the demonstration trailer.
Marketing of the USpatented Airshield units to large fleet users is to be handled direct by CT. Within a few weeks the company hopes to have 250 to 300 units in stock to cover the British and Dutch markets. The deflectors are moulded in 9.5mm (3/8 thick phrenolic fibreboard with an extruded aluminium surround. Some reinforcement inside the roof of the cab shell is normally necessary as well as a three-or four-bolt attachment.
For a one-off installation like that on the D0607, a price of £119 is quoted. The two-part device for artics will cost around :E170, says CT. In both cases a discount of about 25 per cent applies for quantities of 20 or more.