Co-ordinate not nationalize
13th December 1974
Page 15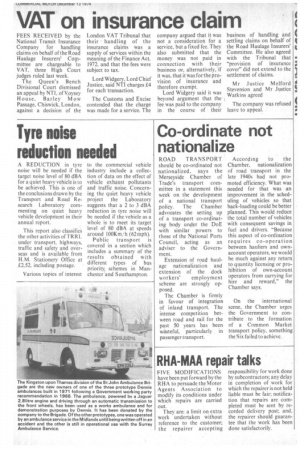 Page 15, 13th December 1974 —
Co-ordinate not nationalize
Close
ROAD TRANSPORT should be co-ordinated not nationalized, says the Merseyside Chamber of Trade's transport committee in a statement this week on the development of a national transport policy. The Chamber advocates the setting up of a transport co-ordinating body under the DoE with similar powers to those of the National Ports Council, acting as an adviser to the Government.
Extension of road haulage nationalization and extension of the dock workers' employment scheme are strongly opposed.
The Chamber is firmly in favour of integration of inland transport. The intense competition between road and rail for the past 50 years has been wa.steful, particularly in passenger transport. According io the Chamber, nationalization of road transport in the late 1940s had not promoted efficiency. What was needed for that was an improvement in the scheduling of vehicles so that back-loading could be better planned. This would reduce the total number of vehicles with consequent savings in fuel and drivers. "Because this aspect of co-ordination requires co-operation between hauliers and ownaccount operators, we would be much against any return to quantity licensing or prohibition of own-account operators from carrying for hire and reward," the Chamber says.
On the international scene, the Chamber urges the Government to contribute to the formation of a Common Market transport policy, something the Six failed to achieve.