Dates for your diary
13th December 1974
Page 14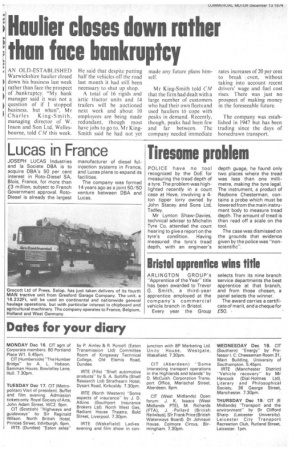 Page 14, 13th December 1974 —
Dates for your diary
Close
MONDAY Dec 16. CIT agm of Corporate members. 80 Portland Place W1. 5.45pm.
CIT(Humberside) "The Humber Bridge" by A. L. Hobson. Samman House, Bowlalley Lane, Hull. 7.30pm.
TUESDAY Dec 17. CIT (Metropolitan) Visit of president. Buffet and film evening. Admission tickets only. Royal Society of Arts, John Adam Street, WC2. 6pm.
CIT (Scottish) "Highways and guideways" by Sir Reginald Wilson. North British Hotel, Princes Street, Edinburgh. 6pm.
IRTE. (Dundee) "Eaton axles" by P. Ainley & R. Purcell. (Eaton Transmission Ltd) Committee Room of Kingsway Technical College, Old Elamis Road, Dundee.
IRTE (Fife) "Shell automotive products" by S. A. Solliffe (Shell Research Ltd) Strathearn Hotel, Dysart Road, Kirkcaldy. 7.30pm.
IRTE (North Western) "Some aspects of insurance" by J. D. Atkins (Southport Insurance Brokers Ltd). North West Gas, Radiant House Theatre, Bold Street, Liverpool. 7.30pm.
IRTE (Wakefield) Ladies evening and film show in con
junction with BP Marketing Ltd. Unity House, Westgate, Wakefield. 7.30prri.
CIT (Aberdeen) "Some interesting transport operations in the Highlands and Islands" by D. McCuish. Corporation Trans, port Office, Marischal Street, Aberdeen. 6pm.
CIT (West Midlands) Open forum: J. K. Isaacs (West Midlands PTE), M. Richards (FTA), J. ,Pollard (British fiailWays), STr Frank Price (British Waterways Board). Dr Johnson House, Colrnore Circus, Birmingham. 7.30pm. WEDNESDAY Dec 18. CIT (Southern) "Energy" by Professor I. C. Cheeseman Room 31, Main Building, University of Southampton. 5.45pm.
IRTE (Manchester District) "Vehicle recovery" by Mr Hancock (Dial-Holmes Ltd). Literary and Philosophical Society, 36 George Street, Manchester. 7.30pm.
THURSDAY Dec 19. CIT (E Midlands) "Transport and the environment" by Dr Clifford Sharp (Leicester University). Leicester City Transport Recreation Club, Rutland Street, Leicester. 1pm.