SBG men stay out
13th December 1974
Page 13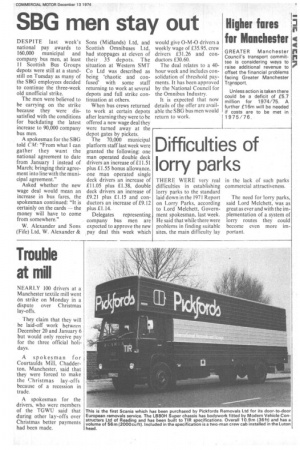 Page 13, 13th December 1974 —
SBG men stay out
Close
DESPITE last week's national pay awards to 160,000 municipal and company bus men, at least II Scottish Bus Groups depots were still at a standstill on Tuesday as many of the SBG employees decided to continue the three-week old unofficial strike.
The men were believed to be carrying on the strike because they were dissatisfied with the conditions for backdating the latest increase to 90,000 company bus men.
A spokesman for the SBG told CM: "From what I can gather they want the national agreement to date from January 1 instead of March; bringing their agreement into line with the municipal agreement."
Asked whether the new wage deal would mean an increase in bus fares, the spokesman continued: "It is certainly on the cards — the money will have to come from somewhere."
W. Alexander and Sons (Fife) Ltd, W. Alexander & Sons (Midlands) Ltd, and Scottish Omnibuses Ltd, had stoppages at eleven of their 35 depots. The situation at Western SMT Co Ltd was described as being 'chaotic and confused' with some staff returning to work at several depots and full strike continuation at others.
When bus crews returned to work at certain depots after learning they were to be offered a new wage deal they were turned away at the depot gates by pickets.
The 70,000 municipal platform staff last week were granted the following: one man operated double deck drivers an increase of £11.51 plus £1.55 bonus allowance, one man operated single deck drivers an increase of £11.05 plus £1.38, double deck drivers an increase of £9.21 plus £1.15 and conductors an increase of £9.12 plus £1.14.
Delegates representing company bus men are expected to approve the new pay deal this week which would give O-M -0 drivers a weekly wage of £35.95, crew drivers £31.26 and conductors £30.60.
The deal relates to a 40hour week and includes consolidation of threshold payments. It has been approved by the National Council for the Omnibus Industry.
It is expected that now details of the offer are available the SBG bus men would return to work.