State aid for Leyland Saviem Berliet link
13th December 1974
Page 11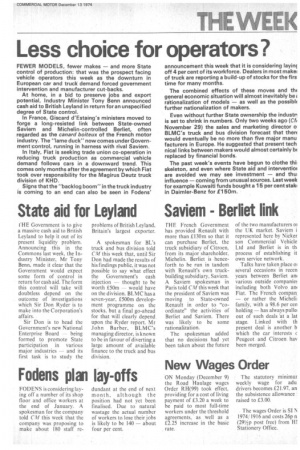 Page 11, 13th December 1974 —
State aid for Leyland Saviem Berliet link
Close
Keywords :
Transport
,
British Leyland
,
Renault
,
Land Transport
,
Road Transport
,
Berliet
,
Saviem
,
Ryder Report
,
Don Ryder, Baron Ryder Of Eaton Hastings
,
Leyland
IHE Government is to give a massive cash aid to British Leyland to help it out of itspresent liquidity problem. Announcing this in the Commons last week, the Industry Minister, Mr Tony Benn, made it clear that the Government would expect sonic form of control in return for cash aid. The form this control will take will doubtless depend on the outcome of investigations which Sir Don Ryder is to make into the Corporation's affairs.
Sir Don is to head the Government's new National Enterprise Board being formed to promote State participation in various major industries — and its first task is to study the problems of British Leyland, Britain's largest exporter.
A spokesman for BL's truck and bus division told CM this week that, until Sir Don had made the results of his findings public, it was not possible to say what effect the Government's cash injection — thought to be worth £50m — would have on the division. BLMC has a seven-year, £500m development programme on the stocks, but a final go-ahead for that will clearly depend upon the Ryder report. Mr John Barber, BLMC's managing director, is known to be in favour of diverting a large amount of available finance to the truck and bus division.
THE French Government has provided Renault with more than £130 m so that it can purchase Bertiet, the truck subsidiary of Citroen, from its major shareholder, Michelin. Berliet is henceforth to be run in tandem with Renault's own truckbuilding subsidiary, Saviem. A Saviem spokesman in Paris told CM this week that the president of Saviem was moving to State-owned Renault in order to "coordinate" the activities of Berliet and Saviem. There was likely to be some rationalization.
The spokesman added that no decisions had yet been taken about the future of the two manufacturers oi the UK market. Saviem represented here by Nicker son Commercial Vehicle Ltd and Berliet is in th process of establishing it own service network.
Talks have taken place al several occasions in recen years between Berliet am various outside companie including both Volvo am Fiat. The French compan — or rather the Michell; family, with a 98.6 per cen holding — has always pullei out of such deals at a lat stage. Linked with th present deal is another b which the car interests c Peugeot and Citroen hay been merged.