Less choice for operators?
13th December 1974
Page 11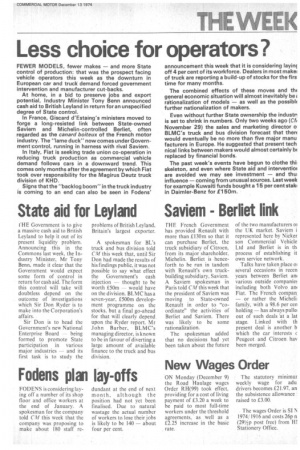 Page 11, 13th December 1974 —
Less choice for operators?
Close
FEWER MODELS, fewer makes — and more State control of production: that was the prospect facing vehicle operators this week as the downturn in European car and truck demand forced government intervention and manufacturer cut-backs.
At home, in a bid to preserve jobs and export potential, Industry Minister Tony Benn announced cash aid to British Leyland in return for an unspecified degree of State control.
In France, Giscard d'Estaing's ministers moved to forge a long-resisted link between State-owned Saviem and Michelin-controlled Berliet, often regarded as the canard boiteux of the French motor industry. The "lame duck" now comes under Government control, running in harness with rival Saviem.
In Italy, Fiat is seeking trade union co-operation in reducing truck production as commercial vehicle demand follows cars in a downward trend. This comes only months after the agreement by which Fiat took over responsibility for the Magirus Deutz truck division of KHD.
Signs that the "backlog boom" in the truck industry is coming to an end can also be seen in Fodens' announcement this week that it is considering layinc off 4 per cent of its workforce. Dealers in most make: of truck are reporting a build-up of stocks for the firs time for many months.
The combined effects of these moves and till cmneral economic situation will almost inevitably be rationalization of models — as well as the possibli further nationalization of makers.
Even without further State ownership the industn is set to shrink in numbers. Only two weeks ago (C/I, November 29) the sales and marketing director o BLMC's truck and bus division forecast that then would eventually be no more than five major manu facturers in Europe. He suggested that present tech nical links between makers would almost certainly bi replaced by financial bonds.
The past week's events have begun to clothe thi: skeleton, and even where State aid and interventioi are avoided we may see investment — and thu. influence — coming from unusual sources. Last week for example Kuwaiti funds bought a 15 per cent staki in Daimler-Benz for £150m.