Improved Enness-Sentinel Producer-gas Plant
13th December 1940
Page 21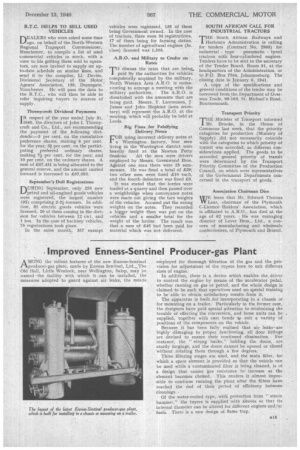 Page 21, 13th December 1940 —
Improved Enness-Sentinel Producer-gas Plant
Close
AMONO the salient features of the new Enness-Sentinel producer-gas plant, made by Enness Sentinel, Ltd." The Old Hall, Little Wenlock, near Wellington, Salop, may be named the facility with which it can be installed, the• measures adopted to guard against air leaks, the means
employed for thorough filtration of the gas and the provision for adjustment of the tnyere bore to suit different sizes of engine.
In addition, there is a device which enables the, driver to control the engine by means of the accelerator pedal, whether running on gas or petrol, and the whole design is claimed -to be such that operatives need no special training to be' ableto obtain satisfactory results from it.
The apparatus is built Jot incorporating in a chassis or for mounting on a trailer.Particularly in the former case, the designers have paid special attention to minimizing the trouble of effecting the conversion, and loose units can be supplied, together with cast bendsto suit a variety of positions of the components on the vehicle.
. Because it has been fully realized that air leaks-are highly damaging to proper functioning, all door fittings are -devised to ensure their continued elimination. For instance, the " strong backs," holding the doors, are sturdy forgings, and the doors Cannot be opened or closed without rotating them through a few degrees.
Three filtering stages are used, and the main filter, for whieh a spare element is provided .so that the vehicle can be used while a contaminated filter is heing cleaned, is of a design that causes gas resistance to increase as the element becomes choked. This renders it-Almost impossible to continue running the plant after the filters have reached the end of their period of efficiency between cleanings, •
Of the water-cooled type, with protection from " steam hammer," the tuyere is supplied with sleeves so that its internal diameter can be altered for different engines and/or fuels. There is a new design of flame trap.