BIG ATTENDANCE AT S.T.R. LECTURE TO A.R.O.
13th December 1935
Page 47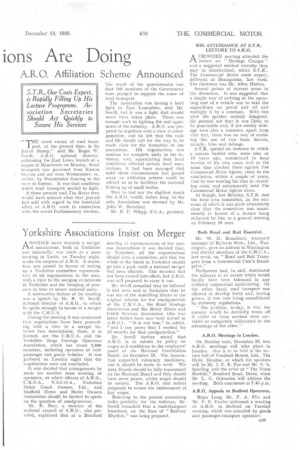 Page 47, 13th December 1935 —
BIG ATTENDANCE AT S.T.R. LECTURE TO A.R.O.
Close
ACROWDED meeting attended the lecture on " Haulage Charges " and a suggested method whereby they may be standardized, which S.T.R., The ComMercial Motor costs expert, delivered at Basingstoke, last week. The chairman was Mr. Allan Hutton.
Several points of interest arose in the discussion. It was suggested that a simple way of arriving at the operating cost of a vehicle was to take the expenditure on petrol and oil and multiply it by a constant. With this view the speaker entirely disagreed. He pointed out that it was likely to be practicable only if the weekly mileage were also a constant; apart from that fact, there was no way of avoiding the use of two basic factors, namely, time arid mileage.
S,T.R. qttoted an instance in which a certain haulier who, some nine or 10 years ago, commenced to keep records of his own costs, and at the same time checked them against The Commercial Motor figures, came to the conclusion, within a -couple• of years, that he was wasting his time in recording costs, and subsequently used The Commercial Motor figures alone.
At Slough, last Monday, S.T.R. met the local area committee, as the outcome of which it was made abundantly clear that the committee was unanimously in favourof a lecture being delivered by him to a general meeting on February 10 next, Both Road and Rail Essential.
Mr. W. D. Broadbent, transport manager of Rylands Bros., Ltd., Warrington, gave an address to ViTarriugton and district members of the C.M.U.A., last week, on "Road and Rail Transport from a Commercial User's Standpoint."
Parliament had, he said, dominated the railways to an extent which would hardly have been tolerated in any ordinary commercial undertaking. On the other hand, road transport was allowed to develop freely and, having grown, it was now being consolidated by statutory regulations. . " The position, to-day, is that the country would be decidedly worse off if either of these services were curtailed or completely obliterated to the advantage of the other."
A.R.O. Meetings in London.
On Monday next, December 16, two A.R.O. meetings will take place in London. One is to be held in the lecture hall of Vauxhall Motors, Ltd., The Hyde, Hendon, at which the speakers will be Mr. J. F. E. Pye and Mr. F. S. Spading, and the other at "The Three Rabbits," Romford Road, Ilford, when Mr. L. G. Ockenden will address the meeting. Both commence at 7.45 p.m.
A.R.O. Appeals to Bedford Operators.
Major Long, Mr. F. A. Flin and Mr. F. F. Fowler addressed a meeting of A.R.O. in Bedford on Tuesday evening, which was attended by goods and passenger-transport operators,