First Event for Drivers a Big Success
13th December 1935
Page 46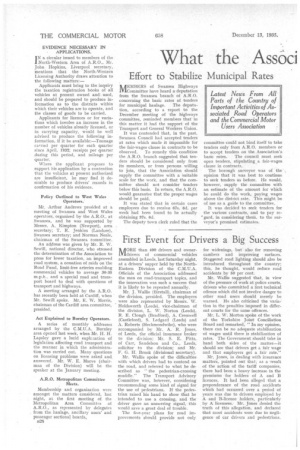 Page 46, 13th December 1935 —
First Event for Drivers a Big Success
Close
hilORE than 400 drivers and ownerI Y1 drivers of commercial vehicles assembled in Leeds, last Saturday night, at a drivers' supper held by the NorthEastern Division of the C.M.U.A. Officials of the Association addressed the men on road-transport topics, and the innovation was such a success that it is likely to be repeated annually.
Mr. J. Wallis (13irstall), chairman of the division, presided. The employers were also represented by Messrs. W. Holdsworth (Leeds), vice-chairman of the division, L. W. Norton (Leeds), R. E. Clough (Bradford), A. Cresswell (Castleford), S. Ledgarcl (Leeds) and A. Roberts (Heckmondwike), who were accompanied by Mr. A. R. Jones, of Leeds, the official insurance broker to the division; Mr. S. E. Pitts, of Carr, Sandelson and Co., Leeds, solicitor to the division; and Mr. F. G. H. Brook (divisional secretary).
Mr. Wallis spoke of the difficulties with which drivers had to contend on the road, and referred to what he described as "the pedestrian-crossing muddle." The Transport Advisory Committee was, ho'wever, considering recommending some kind of signal for the use of pedestrians. If the pedestrian raised his hand to show that he intended to use a crossing, and the driver gave an answering signal, this would save a great deal of trouble.
The five-year plans for road improvements should provide not only for widenings, but also for removing cambers and improving surfaces. Staggered road lighting should also be introduced throughout the country; this, he thought, would reduce road accidents by 50 per cent: Mr. Wallis suggested that, in view of the pressure of work at police courts, drivers who committed a first technical offence which did not involve danger to other road users should merely be warned. Hc also criticised the variation in the penalties imposed in different courts for the same offences.
Mr. L. W. Morton spoke of the work of the Yorkshire Joint Conciliation Board and remarked, "In my opinion, there can be no adequate stabilization of wages until there is stabilization of rates. The Government should take in hand both sides of the matter—it should see that drivers get a fair wage and that employers get a fair rate."
Mr. Jones, in dealing with insurance matters, pointed out that; as a result of the action of the tariff companies, there had been a heavy increase in the premiums for holders of A and B licences. It had been alleged that a preponderance of the road accidents which had occurred over a period of years was due to drivers employed by A and B-licence holders, particularly by A licensees. Mr. Jones denied the truth of this allegation, and declared that most accidents were due to negligence of car drivers and pedestrians.