'Those that use roads most will pay most and the cowboys will be unable to evade payment'
13th August 1992
Page 42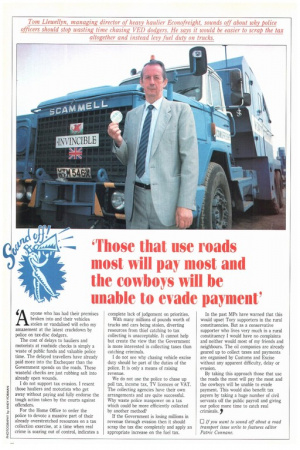 Page 42, 13th August 1992 —
'Those that use roads most will pay most and the cowboys will be unable to evade payment'
Close
nyone who has had their premises broken into and their vehicles stolen or vandalised will echo my amazement at the latest crackdown by police on tax-disc dodgers.
The cost of delays to hauliers and motorists at roadside checks is simply a waste of public funds and valuable police time. The delayed travellers have already paid more into the Exchequer than the Government spends on the roads. These wasteful checks are just rubbing salt into already open wounds.
I do not support tax evasion. I resent those hauliers and motorists who get away without paying and fully endorse the tough action taken by the courts against offenders.
For the Home Office to order the police to devote a massive part of their already overstretched resources on a tax collection exercise, at a time when real crime is soaring out of control, indicates a complete lack of judgement on priorities.
With many millions of pounds worth of trucks and cars being stolen, diverting resources from thief catching to tax collecting is unacceptable. It cannot help but create the view that the Government is more interested in collecting taxes than catching criminals, I do not see why chasing vehicle excise duty should be part of the duties of the police. It is only a means of raising revenue.
We do not use the police to chase up poll tax, income tax, TV licences or VAT. The collecting agencies have their own arrangements and are quite successful. Why waste police manpower on a tax which could be more efficiently collected by another method?
If the Government is losing millions in revenue through evasion then it should scrap the tax disc completely and apply an appropriate increase on the fuel tax. In the past MPs have warned that this would upset Tory supporters in the rural constituencies. But as a conservative supporter who lives very much in a rural constituency I would have no complaints and neither would most of my friends and neighbours. The oil companies are already geared up to collect taxes and payments are organised by Customs and Excise without any apparent difficulty, delay or evasion.
By taking this approach those that use the roads the most will pay the most and the cowboys will be unable to evade payment. This would also benefit tax payers by taking a huge number of civil servants off the public payroll and giving our police more time to catch real criminals.
El If you want to sound off about a road transport issue write to features editor Patric Cunnane.