Simon Bowdrey: 'I had enough of being treated like everybody's doormat'
13th August 1992
Page 28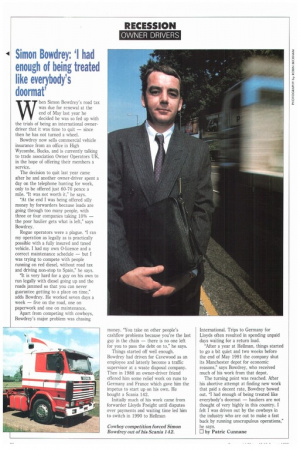 Page 28, 13th August 1992 —
Simon Bowdrey: 'I had enough of being treated like everybody's doormat'
Close
When Simon Bowdrey's road tax was due for renewal at the end of May last year he decided he was so fed up with the trials of being an international ownerdriver that it was time to quit — since then he has not turned a wheel.
Bowdrey now sells commercial vehicle insurance from an office in High Wycombe, Bucks, and is currently talking to trade association Owner Operators UK, in the hope of offering their members a service.
The decision to quit last year came after he and another owner-driver spent a day on the telephone hunting for work, only to be offered just 60-70 pence a mile. "It was not worth it," he says.
"At the end I was being offered silly money by forwarders because loads are going through too many people, with three or four companies taking 10% — the poor haulier gets what is left," says Bowdrey.
Rogue operators were a plague. "I ran my operation as legally as is practically possible with a fully insured and taxed vehicle. I had my own 0-licence and a correct maintenance schedule — but I was trying to compete with people running on red diesel, without road tax and driving non-stop to Spain," he says.
"It is very hard for a guy on his own to run legally with diesel going up and the roads jammed so that you can never guarantee getting to a place on time," adds Bowdrey. He worked seven days a week — five on the road, one on paperwork and one on maintenance.
Apart from competing with cowboys, Bowdrey's major problem was chasing money. You take on other people's cashflow problems because you're the last guy in the chain — there is no one left for you to pass the debt on to," he says.
Things started off well enough. Bowdrey had driven for Cavewood as an employee and latterly become a traffic supervisor at a waste disposal company. Then in 1988 an owner-driver friend offered him some relief work on runs to Germany and France which gave him the impetus to start up on his own. He bought a Scania 142.
Initially much of his work came from forwarder Lloyds Freight until disputes over payments and waiting time led him to switch in 1990 to Hellman International. Trips to Germany for Lloyds often resulted in spending unpaid days waiting for a return load.
"After a year at Hellman, things started to go a bit quiet and two weeks before the end of May 1991 the company shut its Manchester depot for economic reasons," says Bowdrey, who received much of his work from that depot.
The turning point was reached. After his abortive attempt at finding new work that paid a decent rate, Bowdrey bowed out. had enough of being treated like everybody's doormat — hauliers are not thought of very highly in this country. I felt I was driven out by the cowboys in the industry who are out to make a fast buck by running unscrupulous operations," he says.
El by Patric Cunnane