Jim Hardy, victim of Transworld collapse
13th August 1992
Page 26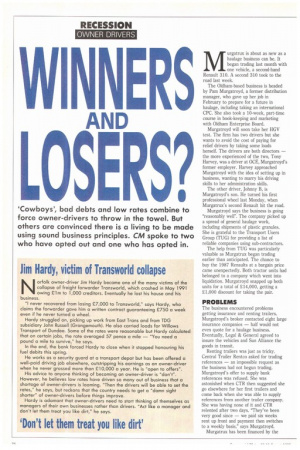 Page 26, 13th August 1992 —
Jim Hardy, victim of Transworld collapse
Close
Norfolk owner-driver Jim Hardy became one of the many victims of the collapse of freight forwarder Transworld, which crashed in May 1991 owing 21m to 1,000 creditors. Eventually he lost his house and his business.
"I never recovered from losing 27,000 to Transworld," says Hardy, who claims the forwarder gave him a written contract guaranteeing 2750 a week even if he never turned a wheel.
Hardy struggled on, picking up work from East Trans and from TDG subsidiary John Russell (Grangemouth). He also carried loads for Willows Transport of Dundee. Some of the rates were reasonable but Hardy calculated that on certain jobs, the rate averaged 57 pence a mile — ''You need a pound a mile to survive," he says.
In the end, the bank forced Hardy to close when it stopped honouring his fuel debits this spring.
He works as a security guard at a transport depot but has been offered a well-paid driving job elsewhere, outstripping his earnings as an owner-driver when he never grossed more than 210,000 a year. He is "open to offers".
His advice to anyone thinking of becoming an owner-driver is "don't". However, he believes low rates have driven so many out of business that a shortage of owner-drivers is looming. "Then the drivers will be able to set the rates," he says, but reckons that the country needs to get a "damn sight shorter" of owner-drivers before things improve.
Hardy is adamant that owner-drivers need to start thinking of themselves as managers of their own businesses rather than drivers. "Act like a manager and don't let them treat you like dirt," he says.
'Don't let them treat you like dirt'