Oil firms opt for drug tests
13th August 1992
Page 19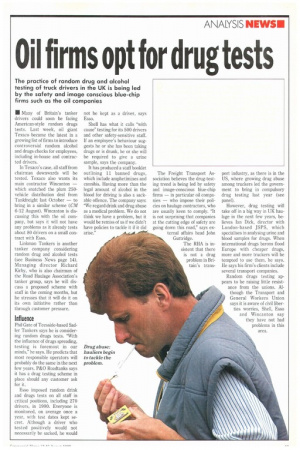 Page 19, 13th August 1992 —
Oil firms opt for drug tests
Close
Keywords :
Doping
,
Drug Control Law
,
Drug Test
,
Employment
,
Tests
,
Truck Driver
,
Use Of Performance-enhancing Drugs In Sport
,
Human Behavior
,
Texaco
,
Transport
,
Personal Life
The practice of random drug and alcohol testing of truck drivers in the UK is being led by the safety and image conscious blue-chip firms such as the oil companies • Many of Britain's tanker drivers could soon be facing American-style random drugs tests. Last week, oil giant Texaco became the latest in a growing list of firms to introduce controversial random alcohol and drugs checks for employees, including in-house and contracted drivers.
In Texaco's case, all staff from chairman downwards will be tested. Texaco also wants its main contractor Wincanton — which snatched the plum 250vehicle distribution deal from Tankfreight last October — to bring in a similar scheme (CM 6-12 August). Wincanton is discussing this with the oil company, but says it will not have any problems as it already tests about 80 drivers on a small contract with Esso.
Linkman Tankers is another tanker company considering random drug and alcohol tests (see Business News page 14). Managing director Richard Kirby, who is also chairman of the Road Haulage Association's tanker group, says he will discuss a proposed scheme with staff in the coming months, but he stresses that it will do it on its own initiative rather than through customer pressure.
Influence Phil Gate of Teesside-based Sadler Tankers says he is considering random drugs tests. "With the influence of drugs spreading, testing is foremost in our minds," he says. He predicts that most responsible operators will probably do the same in the next few years. P&O Roadtanks says it has a drug testing scheme in place should any customer ask for it.
Esso imposed random drink and drugs tests on all staff in critical positions, including 270 drivers, in 1990. Everyone is monitored, on average once a year, with test dates kept secret. Although a driver who tested positively would not necessarily be sacked, he would not be kept as a driver, says Esso.
Shell has what it calls with cause" testing for its 500 drivers and other safety-sensitive staff. If an employee's behaviour suggests he or she has been taking drugs or is drunk, he or she will be required to give a urine sample, says the company.
It has produced a staff booklet outlining 11 banned drugs, which include amphetimines and cannibis. Having more than the legal amount of alcohol in the blood for driving is also a sackable offence. The company says: We regard drink and drug abuse as a medical problem. We do not think we have a problem, but it would be remiss of us if we didn't have policies to tackle it if it did arise." The Freight Transport Association believes the drug-testing trend is being led by safety and image-conscious blue-chip firms — in particular oil companies — who impose their policies on haulage contractors, who are usually keen to comply. "It is not surprising that companies at the cutting edge of safety are going down this road," says ex ternal affairs head John Guttridge.
The RHA is insistent that there is not a drug problem in Britain's trans port industry, as there is in the US, where growing drug abuse among truckers led the government to bring in compulsory drug testing last year (see panel).
However, drug testing will take off in a big way in UK haulage in the next few years, believes Ian Dick, director with London-based JSPS, which specialises in analysing urine and blood samples for drugs. When international drugs barons flood Europe with cheaper drugs, more and more truckers will be tempted to use them, he says. He says his firm's clients include several transport companies.
Random drugs testing appears to be raising little resistance from the unions. Although the Transport and General Workers Union says it is aware of civil liber
ties worries, Shell, Esso
and Wincanton say they have not had
problems in this area.