Local weighing for ferry bucks?
13th August 1987
Page 6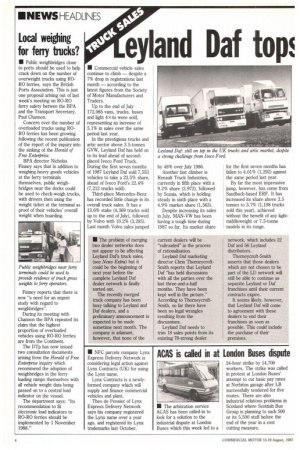 Page 6, 13th August 1987 —
Local weighing for ferry bucks?
Close
• Public weighbridges close to ports should be used to help crack down on the number of overweight trucks using RORO ferries, says the British Ports Association. This is just one proposal arising out of last week's meeting on RO-RO ferry safety betwen the BPA and the Transport Secretary, Paul Channon.
Concern over the number of overloaded trucks using RORO ferries has been growing following the recent publication of the report of the inquiry into the sinking of the Herald of Free Entoprise.
BPA director Nicholas Finney says that in addition to weighing heavy goods vehicles at the ferry terminals themselves, public weighbridges near the docks could be used to check-weigh trucks, with drivers then using the weight ticket at the terminal as proof of their vehicles' overall weight when boarding.
Finney reports that there is now "a need for an urgent study with regard to weighbridges".
During its meeting with Channon the BPA repeated its claim that the highest proportion of overloaded vehicles using RO-RO ferries are from the Continent.
The DTp has now issued two consultation documents arising from the Herald of Free Entoprise inquiry which recommend the adoption of weighbridges in the ferry loading ramps themselves with all vehicle weight data being passed on to a central load indicator on the vessel.
The department says: "Its recorrunendation to fit electronic load indicators to RO-RO ferries should be implemented by 1 November 1988."