• The problem of merging two dealer networks does not
13th August 1987
Page 6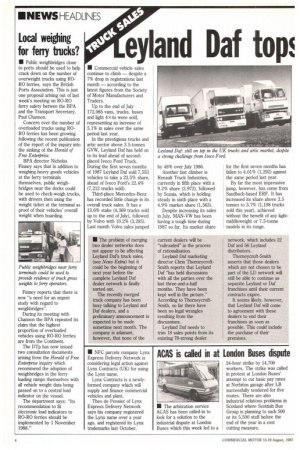 Page 6, 13th August 1987 —
• The problem of merging two dealer networks does not
Close
appear to be affecting Leyland Daf s truck sales, (see News Extra) but it could be the beginning of next year before the complete Leyland Daf dealer network is finally sorted out.
The recently merged truck company has been busy talking to Leyland and Daf dealers, and a preliminary announcement is expected to be made sometime next month. The company is adamant, however, that none of the current dealers will be "railroaded" in the process of rationalisation.
Leyland Daf marketing director Chris ThomeycroftSmith reports that Leyland Daf "has held discussions with all the parties over the last three-and-a-half months. They have been kept well in the picture." According to ThonieycroftSmith, so far there have been no legal wrangles resulting from the discussions.
Leyland Daf needs to trim 18 sales points from its existing 78-strong dealer network, which includes 22 Daf and 56 Leyland distributors.
Thorneycroft-Smith asserts that those dealers which are not chosen to be part of the LD network will still be able to continue as separate Leyland or Daf franchises until their current contracts expire.
It seems likely, however, that Leyland Daf will come to agreement with these dealers to end their franchises as soon as possible. This could include the purchase of their premises.