• When the deregulation of the country's bus operations was
13th August 1987
Page 5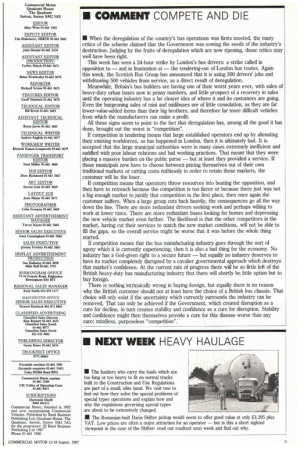 Page 5, 13th August 1987 —
• When the deregulation of the country's bus operations was
Close
firsts mooted, the many critics of the scheme claimed that the Government was sowing the seeds of the industry's destruction. Judging by the fruits of deregulation which are now ripening, those critics may well have been right.
This week has seen a 24-hour strike by London's bus drivers: a strike called in opposition to — and in frustration at — the tendering-out of London bus routes. Again this week, the Scottish Bus Group has announced that it is axing 500 drivers' jobs and withdrawing 500 vehicles from service, as a direct result of deregulation.
Meanwhile, Britain's bus builders are having one of their worst years ever, with sales of heavy-duty urban buses now in permy numbers, and little prospect of a recovery in sales until the operating industry has a far clearer idea of where it and its customers are going. Even the burgeoning sales of mini and midibuses are of little consolation, as they are far lower-value-added items than their big brothers, and therefore far more difficult vehicles from which the manufacturers can make a profit.
All these signs seem to point to the fact that deregulation has, among all the good it has done, brought out the worst in "competition".
If competition in tendering means that large established operators end up by alienating their existing workforces, as has happened in London, then it is ultimately bad. It is accepted that the large municipal authorities were in many cases extremely inefficient and saddled with poor labour relations and bad working practices. That meant that they were placing a massive burden on the public purse — but at least they provided a service. If those municipals now have to choose between pricing themselves out of their own traditional markets or cutting costs ruthlessly in order to retain those markets, the customer will be the loser.
If competition means that operators throw resources into beating the opposition, and then have to retrench because the competition is too fierce or because there just was not a big enough market to justify that competition in the first place, then once again the customer suffers. When a large group cuts back heavily, the consequences go all the way down the line. There are more redundant drivers seeking work and perhaps willing to work at lower rates. There are more redundant buses looking for homes and depressing the new vehicle market even further. The likelihood is that the other competitors in the market, having cut their services to match the new market conditions, will not be able to fill the gaps, so the overall service might be worse that it was before the whole thing started.
If competition means that the bus manufacturing industry goes through the sort of agony which it is currently experiencing, then it is also a bad thing for the economy. No industry has a God-given right to a secure future — but equally no industry deserves to have its market completely disrupted by a cavalier governmental approach which destroys that market's confidence. At the current rate of progress there will be so little left of the British heavy-duty bus manufacturing industry that there will shortly be little option but to buy foreign.
There is nothing intrinsically wrong in buying foreign, but equally there is no reason why the British customer should not at least have the choice of a British bus chassis. That choice will only exist if the uncertainty which currently surrounds the industry can be removed, That can only be achieved if the Government, which created disruption as a cure for decline, in turn creates stability and confidence as a cure for disruption. Stability and confidence might then themselves provide a cure for this disease worse than any cure: mindless, purposeless "competition".