GOLDING'S WESTERN
13th August 1987
Page 36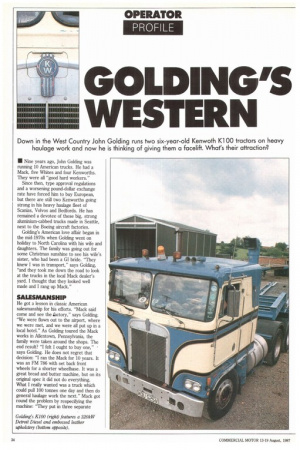 Page 37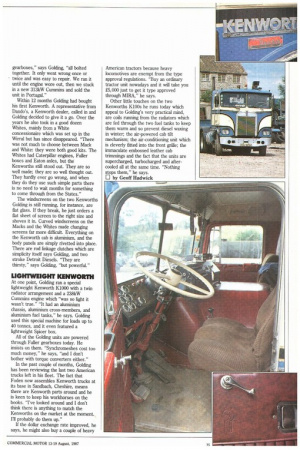 Page 36, 13th August 1987 —
GOLDING'S WESTERN
Close
Down in the West Country John Golding runs two six-year-old Kenwoth K100 tractors on heavy haulage work and now he is thinking of giving them a facelift. What's their attraction?
IN Nine years ago, John Golding was running 10 American trucks. He had a Mack, five Whites and four Kenworths. They were all ''good hard workers."
Since then, type approval regulations and a worsening pound-dollar exchange rate have forced him to buy European, but there are still two Kenworths going strong in his heavy haulage fleet of Scanias, Volvos and Bedfords. He has remained a devotee of these big, strong aluminium-cabbed trucks made in Seattle, next to the Boeing aircraft factories.
Golding's American love affair began in the mid-1970s when Golding went on holiday to North Carolina with his wife and daughters. The family was going out for some Christmas sunshine to see his wife's sister, who had been a GI bride. "They knew I was in transport," says Golding, "and they took me down the road to look at the trucks in the local Mack dealer's yard. I thought that they looked well made and I rang up Mack."
SALESMANSHIP
He got a lesson in classic American salesmanship for his efforts. "Mack said come and see the Zactory," says Golding. "We were flown out to the airport, where we were met, and we were all put up in a local hotel." As Golding toured the Mack works in Allentown, Pennsylvania, the family were taken around the shops. The end result? "I felt I ought to buy one says Golding. He does not regret that decision: "I ran the Mack for 10 years. It was an FM 786 with set back front wheels for a shorter wheelbase. It was a great bread and butter machine, but on its original spec it did not do everything. What I really wanted was a truck which could pull 100 tonnes one day and then do general haulage work the next." Mack got round the problem by respecifying the machine: "They put in three separate gearboxes," says Golding, "all bolted together. It only went wrong once or twice and was easy to repair. We ran it until the engine wore out, then we stuck in a new 313kW Cummins and sold the unit in Portugal."
Within 12 months Golding had bought his first Kenworth. A representative from Dando's, a Kenworth dealer, called in and Golding decided to give it a go. Over the years he also took in a good dozen Whites, mainly from a White concessionaire which was set up in the Wirral but has since disappeared. "There was not much to choose between Mack and White: they were both good kits. The Whites had Caterpillar engines, Fuller boxes and Eaton axles, but the Kenworths still stood out. They are so well made; they are so well thought out. They hardly ever go wrong, and when they do they use such simple parts there is no need to wait months for something to come through from the States."
The windscreens on the two Kenworths Golding is still running, for instance, are flat glass. If they break, he just orders a flat sheet of screen to the right size and shoves it in. Curved windscreens on the Macks and the Whites made changing screens far more difficult. Everything on the Kenworth cab is aluminium, and the body panels are simply livened into place. There are rod linkage clutches which are simplicity itself says Golding, and two stroke Detroit Diesels. "They are thirsty," says Golding, "but powerful."
LIGHTWEIGHT KENWORTH
At one point, Golding ran a special lightweight Kenworth K1000 with a twin radiator arrangement and a 238kW Cummins engine which "was so light it wasn't true." "It had an aluminium chassis, aluminium cross-members, and aluminium fuel tanks," he says. Golding used this special machine for loads up to 40 tonnes, and it even featured a lightweight Spicer box.
All of the Golding units are powered through Fuller gearboxes today. He insists on them. "Synchromeshes cost too much money," he says, "and I don't bother with torque converters either."
In the past couple of months, Golding has been reviewing the last two American trucks left in his fleet. The fact that Foden now assembles Kenworth trucks at its base in Sandbach, Cheshire, means there are Kenworth parts around and he is keen to keep his workhorses on the books. "I've looked around and I don't think there is anything to match the Kenworths on the market at the moment. I'll probably do them up."
If the dollar exchange rate improved, he says, he might also buy a couple of heavy American tractors because heavy locomotives are exempt from the type approval regulations. "Buy an ordinary tractor unit nowadays and it will take you E5,000 just to get it type approved through MIRA," he says.
Other little touches on the two Kenworths K100s he runs today which appeal to Golding's very practical mind, are coils running from the radiators which are fed through the two fuel tanks to keep them warm and so prevent diesel waxing in winter, the air-powered cab tilt mechanism; the air-conditioning unit which is cleverly fitted into the front grille; the immaculate embossed leather cab trimmings and the fact that the units are supercharged, turbocharged and aftercooled all at the same time. "Nothing stops them," he says.
by Geoff Hadwick