BOUGHT IN THE USA
13th August 1987
Page 32
Page 33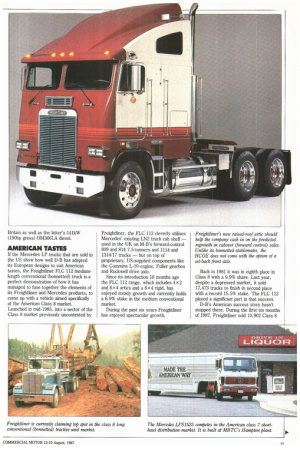 Page 34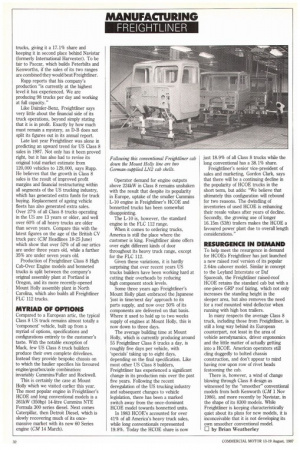 Page 32, 13th August 1987 —
BOUGHT IN THE USA
Close
Keywords :
Land Transport
,
Transport
,
Road Transport
,
Trucking Industry In The United States
,
Freightliner Trucks
,
Truck
,
White Motor Company
,
Mack Trucks
,
Peterbilt
,
Cummins
,
Erf
,
Cab Over
North America is a tempting market. Daimler-Benz is among several European manufacturers to have made successful forays across the Atlantic.
• This story is all about numbers. In 1986 British and Continental manufacturers sold 54,138 trucks and artics over 3.5-tonnes GVW in Great Britain. Meanwhile American manufacturers sold 112,871 vehicles in their home market just in their 'Class 8' (rigids and artics, 28-36-tonnes GVW). Even that was, in American eyes, a disappointment: it was down 15% on the previous year.
So it comes as no surprise that the European truck industry takes a keen interest in the huge American market — yet apart from Iveco and, more recently, Scania, few have attempted to set up stand-alone American subsidiaries. Instead the common ploy has been to buy part or all of an established American manufacturer along, with its existing dealer network and assembly lines.
The former approach is typified by Renault (RVI), which currently holds more than 40% of Mack Trucks. The latter is exemplified by Volvo Truck Corporation, which in 1981 acquired the then ailing White Motor Company, turned it round, and will soon be starting a new joint venture with General Motors to build heavy trucks.
Last, but by no means least, there is Daimler-Benz. In the same year that Volvo grabbed White, D-B bought Freightliner, the Oregon-based Class 8 heavy truck builder, combining it with its own Mercedes-Benz Truck Company (MBTC) in 1982. This was not D-B's first foray into America: its long-serving L bonnetted trucks have been selling in the USA Class 6 and 7 markets since the early seventies. Since 1980 they have been built at MBTC's own truck assembly plant at Hampton, Virginia, using parts supplied from D-B's Brazilian manufacturing subsidiary.
The original decision to buy Freightliner and consolidate it with MBTC has paid off — for both partners.
For Daimler-Benz it has meant the opportunity to increase its US sales penetration, and also to improve its overall global sales and manufacturing flexibility. Perhaps more significantly, it has helped to bring European styling and vehicle technology to a truck market which remains even more conservative than the UK.
OLD-FASHIONED
Over the past five years, in addition to its by now old-fashioned L1113, L1117 and L1319 Hampton-built trucks, DaimlerBenz has been gradually adding more European-designed vehicles, including in 1985 the LPS1525 tractive unit, and last September its LP1219 and LP1419 rigids. While the designation numbers may sound confusing, UK hauliers would have no problem recognising any of them — even without a tachograph.
The LPS1525, plated for Class 7, 29.9tonne GCW (66,0001b) operations is basically the same day-cabbed 4 x 2 1625 tractive unit that is sold in Britain, but with a five-cylinder 187kW (250hp) Mercedes 0M429LA charge-cooled engine, in place of the vee-eight 0M422 naturally-aspirated unit normally used in the UK 1625 model.
Like its European cousin, the LPS1525 is aimed primarily at the short-haul interurban distribution operator, and is a strong competitor to the latest Volvo FL7 range, which is sold in the US as the FE7.
Unlike the Volvo FE artic, which is shipped into the US fully-built-up, the LP51525 qualifies as a local product, being assembled at Hampton using cabs, engines and gearboxes supplied from D-B in Germany, with chassis frames, axles and springs shipped in from Brazil.
If the LPS1525 looks familiar, then so should the LP1229 and LP1419, which are also sold to US hauliers in the Class 7 sector and are built at Hampton. Both the 12.5-tonne GVW LP1219 and its heavier brother, the 14.9-tonne GVW LP1419, have the same basic cab as the 1617 Mercedes 16-tonne rigid chassis sold in
AMERICAN TASTES
If the Mercedes LP trucks that are sold in the US show how well D-B has adapted its European designs to suit American tastes, the Freightliner FLC 112 mediumlength conventional (bonnetted) truck is a perfect demonstration of how it has managed to fuse together the elements of its Freightliner and Mercedes products, to come up with a vehicle aimed specifically at the American Class 8 market.
Launched in mid-1985, into a sector of the Class 8 market previously uncontested by Freightliner, the FLC 112 cleverly utilises Mercedes' existing LN2 truck cab shell — used in the UK on M-B's forward-control 809 and 814 7.5-tonners and 1114 and 1314/17 trucks — but on top of proprietary, US-supplied components like the Cummins L-10 engine, Fuller gearbox and Rockwell drive axle.
Since its introduction 18 months ago the FLC 112 range, which includes 4x2 and 6x4 artics and a 6x4 rigid, has enjoyed steady growth and currently holds a 6.9% stake in the medium conventional market.
During the past six years Freightliner has enjoyed spectacular growth. Back in 1981 it was in eighth place in Class 8 with a 9.9% share. Last year, despite a depressed market, it sold 17,473 trucks to finish in second place with a record 15.5% stake. The FLC 112 played a significant part in that success.
D-B's American success story hasn't stopped there. During the first six months of 1987, Freightliner sold 10,902 Class 8 trucks, giving it a 17.1% share and keeping it in second place behind Navistar (formerly International Harvester). To be fair to Paccar, which builds Peterbilts and Kenworths, if the sales of its two ranges are combined they would beat Freightliner.
Rupp reports that his company's production "is currently at the highest level it has experienced. We are producing 98 trucks per day and working at full capacity."
Like Daimler-Benz, Freightliner says very little about the financial side of its truck operations, beyond simply stating that it is in profit. Exactly by how much must remain a mystery, as D-B does not split its figures out in its annual report.
Late last year Freightliner was alone in predicting an upward trend for US Class 8 sales in 1987. Not only has it been proved right, but it has also had to revise its original total market estimate from 120,000 vehicles to 129,000, says Rupp. He believes that the growth in Class 8 sales is the result of improved profit margins and financial restructuring within all segments of the US trucking industry, which has generated extra funds for truck buying. Replacement of ageing vehicle fleets has also generated extra sales. Over 27% of all Class 8 trucks operating in the US are 13 years or older, and well over 60% of all heavy trucks are older than seven years. Compare this with the latest figures on the age of the British CV truck pare (CM Headlines 18-25 June) which show that over 52% of all our attics are under three years old, while a further 35% are under seven years old.
Production of Freightliner Class 8 High Cab-Over Engine models and bonneted trucks is split between the company's original assembly plant at Portland in Oregon, and its more recently-opened Mount Holly assembly plant in North Carolina, which also builds all Freightliner FLC 112 trucks.
MYRIAD OF OPTIONS
Compared to a European artic, the typical Class 8 US truck remains almost totally a `component' vehicle, built up from a myriad of options, specifications and configurations entirely to the customer's taste. With the notable exception of Mack, few US Class 8 truck builders produce their own complete drivelines. Instead they provide bespoke chassis on to which the haulier specifies his favoured engine/gearbox/axle combination: invariably Cummins/Fuller and Rockwell.
This is certainly the case at Mount Holly which we visited earlier this year. The most popular engine in Freightliner's HCOE and long conventional models is a 261kW (350hp) 14-litre Cummins NTE Formula 300 series diesel. Next comes Caterpillar, then Detroit Diesel, which is slowly recovering much of its oncemassive market with its new 60 Series engine (CM 14 March). Operator demand for engine outputs above 224kW in Class 8 remains unshaken with the result that despite its popularity in Europe, uptake of the smaller Cummins L-10 engine in Freightliner's HCOE and bonnetted trucks has been somewhat disappointing.
The L-10 is, however, the standard engine in the FLC 112 range.
When it comes to ordering trucks, America is still the place where the customer is king. Freightliner alone offers over eight different kinds of door throughout its heavy truck range, except for the FLC 112.
Given these variations, it is hardly surprising that over recent years US trucks builders have been working hard at cutting their overheads by reducing high component stock levels.
Some three years ago Freightliner's Mount Holly plant embraced the Japanese 'just in time/next day' approach to its parts supply, and now over 50% of its components are delivered on that basis. Where it used to hold up to two weeks supply of engines at Mount Holly, this is now down to three days.
The average building time at Mount Holly, which is currently producing around 55 Freightliner Class 8 trucks a day, is roughly five days per vehicle, with `specials' taking up to eight days, depending on the final specification. Like most other US Class 8 builders, Freightliner has experienced a significant change in its production mix over the past five years. Following the recent deregulation of the US trucking industry and subsequent changes to vehicle legislation, there has been a marked switch away from the once-dominant HCOE model towards bonnetted units.
In 1983 HCOE's accounted for over 41% of all America's heavy truck sales, while long conventionals represented 19.8%. Today the HCOE share is now just 18.9% of all Class 8 trucks while the long conventional has a 38.1% share.
Freightliner's senior vice-president of sales and marketing, Gordon Clark, says that there will be a continuing decline in the popularity of HCOE trucks in the short term, but adds: "We believe that ultimately this configuration will rebound for two reasons. The dwindling of inventories of used HCOE is enhancing their resale values after years of decline. Secondly, the growing use of longer 16.15m (53ft) trailers makes the HCOE a favoured power plant due to overall length considerations."
RESURGENCE IN DEMAND
To help meet the resurgence in demand for HCOEs Freightliner has just launched a new raised roof version of its popular 2.64m cabover model. Similar in concept to the Leyland Interstate or Daf Spacecab, the Freightliner raised-roof HCOE retains the standard cab but with a one-piece GRP roof fairing, which not only increases the standing height in the sleeper area, but also removes the need for a roof mounted wind deflector when running with high box trailers.
In many respects the average Class 8 truck, including those from Freightliner, is still a long way behind its European counterpart, not least in the area of vehicle aerodynamics, driver ergonomics and the little matter of actually getting into a HCOE. American operators still cling doggedly to bolted chassis construction, and don't appear to mind having row upon row of rivet heads festooning the cab.
There is, however, a wind of change blowing through Class 8 design as witnessed by the "smoother" conventional models from both Kenworth (CM 1 Nov 1986), and more recently by Navistar, in the shape of its 8300 models. While Freightliner is keeping characteristically quiet about its plans for new models, it is inconceivable that it is not developing its own smoother conventional model.
by Brian Weatherley