PRICES SUBARU PICKUP PRICES RISE • Subaru (UK) has increased
13th August 1987
Page 28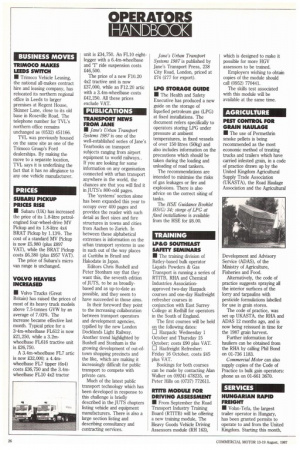 Page 28, 13th August 1987 —
PRICES SUBARU PICKUP PRICES RISE • Subaru (UK) has increased
Close
the price of its 1.8-litre petrolengined four-wheel-drive MV Pickup and its 1.8-litre 4x4 BRAT Pickup by 1.13%. The cost of a standard MV Pickup is now 25,980 (plus 2897 VAT), while the BRAT Pickup costs 26,380 (plus 2957 VAT).
The price of Subaru's micro van range is unchanged.
VOLVO HEAVIES INCREASED • Volvo Trucks (Great Britain) has raised the prices of most of its heavy truck models above 7.5-tonnes GVW by an average of 7.03%. The increase became effective last month. Typical price for a 3.4m-wheelbase FL612 is now 221,250, while a 3.2mwheelbase FL616 tractive unit is 226,750.
A 3.4m-wheelbase FL7 attic is now 232,000; a 4.4mwheelbase FL7 tipper (6x4) costs 236,750 and the 3.4mwheelbase FL10 4x2 tractor unit is 24,750. An FL10 eightlegger with a 6.4m-wheelbase and 'T' ride suspension costs 246,500.
The price of a new F10.20 4x2 tractive unit is now 237,000, while an F12.20 attic with a 3.4m-wheelbase costs 242,250. All these prices exclude VAT.