AGRICULTURE PEST CONTROL FOR GRAIN HAULAGE • The use of
13th August 1987
Page 28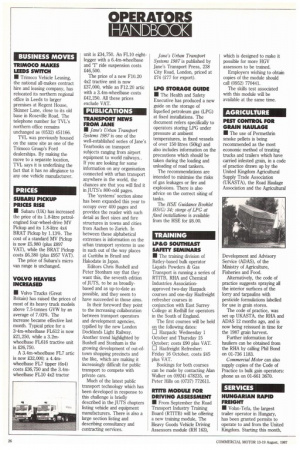 Page 28, 13th August 1987 —
AGRICULTURE PEST CONTROL FOR GRAIN HAULAGE • The use of
Close
Permethrin smoke pellets is being recommended as the most economic method of treating trucks and trailers which have carried infested grain, in a code of practice drawn up by the United Kingdom Agricultural Supply Trade Association (UICASTA), the Road Haulage Association and the Agricultural Development and Advisory Service (ADAS), of the Ministry of Agriculture, Fisheries and Food.
Alternatively, the code of practice suggests spraying all the interior surfaces of the lorry and tarpaulins with pesticide formulations labelled for use in grain stores.
The code of practice, was set up UKASTA, the RHA and ADAS 12 months ago, and is now being reissued in time for the 1987 grain harvest.
Further information for hauliers can be obtained from the RHA by calling Phil Bond on 01-736 1183.
Commercial Motor can also supply copies of the Code of Practice to bulk gain operators: phone us on 01-661 3670.