• MERCEDES-BENZ CASH, O'ROURKE, BIBBY, HALSE Mercedes-Benz UK has split
13th August 1987
Page 27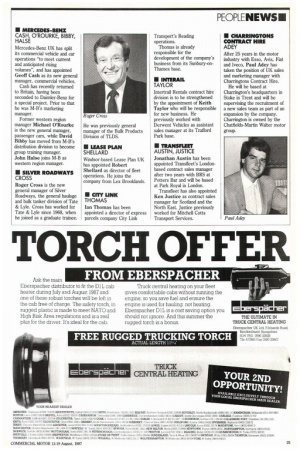 Page 27, 13th August 1987 —
• MERCEDES-BENZ CASH, O'ROURKE, BIBBY, HALSE Mercedes-Benz UK has split
Close
its commercial vehicle and car operations "to meet current and anticipated rising volumes", and has appointed Geoff Cash as its new general manager, commercial vehicles.
Cash has recently returned to Britain, having been seconded to Daimler-Benz for a special project. Prior to that he was M-B's marketing manager.
Former western region manager Michael O'Rourke is the new general manager, passenger cars, while David Bibby has moved from M-B's distribution division to become group training manager. John HaIse joins M-B as western region manager.
• SILVER ROADWAYS CROSS Roger Cross is the new general manager of Silver Roadways, the general haulage and bulk tanker division of Tate St Lyle. Cross has worked for Tate & Lyle since 1968, when he joined as a graduate trainee. lie was previously general manager of the Bulk Products Division of TLDS.
• LEASE PLAN SHELLARD Windsor-based Lease Plan UK has appointed Robert Shellard as director of fleet operations. He joins the company from Lex Brooklands.
• CITY LINK THOMAS Ian Thomas has been appointed a director of express parcels company City Link Transport's Reading operations.
Thomas is already responsible for the development of the company's business from its Sunbury-onThames base.
• INTERAIL TAYLOR Intertrail Rentals contract hire division is to be strengthened by the appointment of Keith Taylor who will be responsible for new business. He previously worked with Derwent Vehicles as assistant sales manager at its Trafford Park base.
• TRANSFLEET AUSTIN, JUSTICE Jonathan Austin has been appointed Transtleet's Londonbased contract sales manager after two years with BRS at Potters Bar and will be based at Park Royal in London.
Transfleet has also appointed Ken Justice as contract sales manager for Scotland and the North East. Justice previously worked for Mitchell Cotts Transport Services. • CHARRINGTONS CONTRACT HIRE ADEY After 25 years in the motor industry with Esso, Avis, Fiat and Iveco, Paul Adey has taken the position of UK sales and marketing manager with Charringtons Contract Hire.
He will be based at Charrington's headquarters in Stoke in Trent and will be supervising the recruitment of a new sales team as part of an expansion by the company. Charrington is owned by the ChatfieIds-Martin Walter motor group.
Tags
People
:
Jonathan Austin
,
John HaIse
,
Robert Shellard
,
Michael O'Rourke
,
Geoff Cash
,
David Bibby
,
MERCEDES-BENZ CASH
,
Ian Thomas
,
Lex Brooklands
,
Paul Adey
,
Keith Taylor
,
Roger Cross
,
Mitchell Cotts
,
Transtleet