• WEST GERMANY VOLVO SALES Volvo Deutschland GmbH achieved sales
13th August 1987
Page 26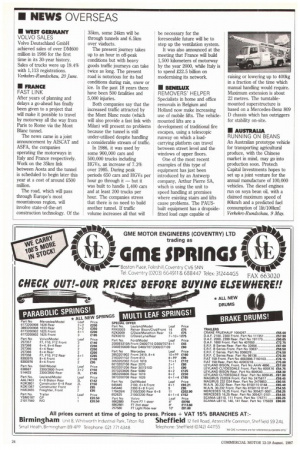 Page 26, 13th August 1987 —
• WEST GERMANY VOLVO SALES Volvo Deutschland GmbH achieved sales
Close
of over DM600 million in 1986 for the first time in its 30-year history. Sales of trucks were up 19.4% with 1,113 registrations. Verkehrs-Rundschau, 20 June.
• FRANCE FAST LINK After years of planning and delays a go-ahead has finally been given to a project that will make it possible to travel by motorway all the way from Paris to Rome via the Mont Blanc tunnel.
The news came in a joint announcement by AISCAT and ASFA, the companies operating the motorways in Italy and France respectively. Work on the 35km link between Aosta and the tunnel is scheduled to begin later this year at a cost of around £500 million.
The road, which will pass through Europe's most mountainous region, will involve state-of-the-art construction technology. Of the 351cm, some 24Icm will be through tunnels and 6.5Icm over viaducts.
The present journey takes up to an hour in off-peak conditions but with heavy goods traffic journeys can take twice as long. The present road is notorious for its bad conditions during rain, snow or ice. In the past 18 years there have been 500 fatalities and 5,000 injuries.
Both companies say that the increased traffic attracted by the Mont Blanc route (which will also provide a fast link with Milan) will present no problems because the tunnel is still under-utilised despite handling a considerable stream of traffic.
In 1986, it was used by some 900,000 cars and 500,000 trucks including HGVs, an increase of 7.3% over 1985. During peak periods 650 cars and HGVs per hour go through it — but it was built to handle 1,400 cars and at least 200 trucks per hour. The companies stress that there is no need to build another tunnel. If traffic volume increases all that will be necessary for the foreseeable future will be to step up the ventilation system.
It was also announced at the meeting that France will build 1,500 kilometers of motorway by the year 2000, while Italy is to spend £22.5 billion on modernising its network.
• BENELUX REMOVERS HELPER Specialists in home and office removals in Belgium and Holland now make increasing use of mobile lifts. The vehiclemounted lifts are a development of traditional fire escapes, using a telescopic runway on which a loadcarrying platform can travel between street level and the windows of upper floors.
One of the most recent examples of this type of equipment has just been introduced by an Antwerp company, Arthur Pierre SA, which is using the unit to speed handling at premises where existing stairs and lifts cause problems. The PAUSbuilt equipment has a dropsidefitted load cage capable of raising or lowering up to 400kg in a fraction of the time which manual handling would require. Maximum extension is about 22 metres. The turntablemounted superstructure is based on a Mercedes-Benz 809 D chassis which has outriggers for stability on-site.
• AUSTRALIA RUNNING ON BEANS An Australian prototype vehicle for transporting agricultural produce, with the Chinese market in mind, may go into production soon. Protech Capital Investments hopes to set up a joint venture for the annual manufacture of 100,000 vehicles. The diesel engines run on soya bean oil, with a claimed maximum speed of 80km/h and a predicted fuel consumption of llit/100km! Verkehrs-Rundschau, 9 May.