'Name unfit drivers'
13th August 1987
Page 21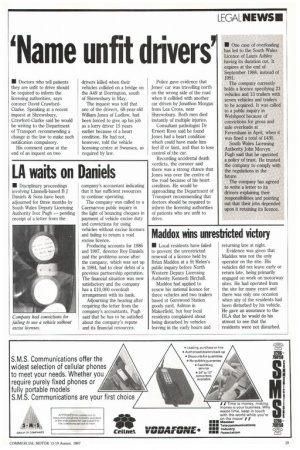 Page 21, 13th August 1987 —
'Name unfit drivers'
Close
• Doctors who tell patients they are unfit to drive should be required to inform the licensing authorities, says coroner David CrawfordClarke. Speaking at a recent inquest at Shrewsbury, Crawford-Clarke said he would be writing to the Department of Transport recommending a change in the law to make such notification compulsory.
His comment came at the end of an inquest on two drivers killed when their vehicles collided on a bridge on the A49 at Dorrington, south of Shrewsbury in May.
The inquest was told that one of the drivers, 68-year-old William Jones of Ludlow, had been' forced to give up his job as a lorry driver 15 years earlier because of a heart condition. He had not, however, told the vehicle licensing centre at Swansea, as required by law. Police gave evidence that Jones' car was travelling north on the wrong side of the road when it collided with another car driven by Jonathon Morgan from Lea Cross, near Shrewsbury. Both men died instantly of multiple injuries.
Consultant pathologist Dr Ernest Ross said he found Jones had a heart condition which could have made him feel ill or faint, and thus to lose control of the car.
Recording accidental death verdicts, the coroner said there was a strong chance that Jones was over the centre of the road because of his heart condition. He would be approaching the Department of Transport recommending that doctors should be required to inform the licensing authorities of patients who are unfit to drive.