Foley was reasonable
13th August 1987
Page 20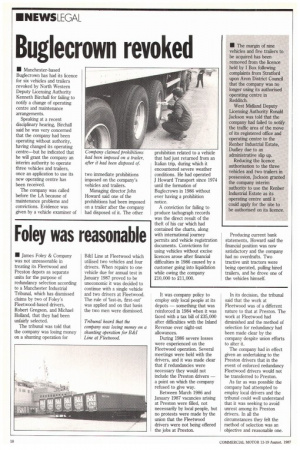 Page 20, 13th August 1987 —
Foley was reasonable
Close
• James Foley & Company was not unreasonable in treating its Fleetwood and Preston depots as separate units for the purpose of redundancy selection according to a Manchester Industrial Tribunal, which has dismissed claims by two of Foley's Fleetwood-based drivers, Robert Gregson, and Michael Holland, that they had been unfairly selected.
The tribunal was told that the company was losing money on a shunting operation for B&I Line at Fleetwood which utilised two vehicles and four drivers. When repairs to one vehicle due for annual test in January 1987 proved to be uneconomic it was decided to continue with a single vehicle and two drivers at Fleetwood. The rule of last-in, first-out' Was applied and on that basis the two men were dismissed. It was company policy to employ only local people at its depots — something that was reinforced in 1984 when it was faced with a tax bill of £35,000 after difficulties with the Inland Revenue over night-out allowances.
During 1986 severe losses were experienced on the Fleetwood operation. Several meetings were held with the drivers, and it was made clear that if redundancies were necessary they would not include the Preston drivers — a point on which the company refused to give way.
Between March 1986 and January 1987 vacancies arising at Preston were filled, not necessarily by local people, but no protests were made by the union that the Fleetwood drivers were not being offered the jobs at Preston. In its decision, the tribunal said that the work at Fleetwood was of a different nature to that at Preston. The work at Fleetwood had diminished and the method of selection for redundancy had been made clear by the company despite union efforts to alter it.
The company had in effect given an undertaking to the Preston drivers that in the event of enforced redundancy Fleetwood drivers would not be transferred to Preston.
As far as was possible the company had attempted to employ local drivers and the tribunal could well understand that it was seeking to avoid unrest among its Preston drivers. In all the circumstances they felt the method of selection was an objective and reasonable one.