Buglecrown revoked
13th August 1987
Page 20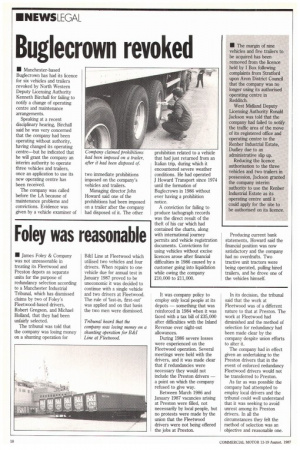 Page 20, 13th August 1987 —
Buglecrown revoked
Close
• Manchester-based Buglecrown has had its licence for six vehicles and trailers revoked by North Western Deputy Licensing Authority Kenneth Birchall for failing to notify a change of operating centre and maintenance arrangements.
Speaking at a recent disciplinary hearing, Birchall said he was very concerned that the company had been operating without authority, having changed its operating centre—but he indicated that he will grant the company an interim authority to operate three vehicles and trailers, once an application to use its new operating centre has been received.
The company was called before the LA because of maintenance problems and convictions. Evidence was given by a vehicle examiner of two immediate prohibitions imposed on the company's vehicles and trailers.
Managing director John Howard said one of the prohibitions had been imposed on a trailer after the company had disposed of it. The other prohibition related to a vehicle that had just returned from an Italian trip, during which it encountered severe weather conditions. He had operated J Howard Transport since 1974 until the formation of Buglecrown in 1986 without ever having a prohibition notice.
A conviction for failing to produce tachograph records was the direct result of the theft of his car which had contained the charts, along with international journey permits and vehicle registration documents. Convictions for using vehicles without excise licences arose after financial difficulties in 1986 caused by a customer going into liquidation while owing the company £10,000 to £11,000. Producing current bank statements, Howard said the financial position was now satisfactory and the company had no overdrafts. Two tractive unit tractors were being operated, pulling hired trailers, and he drove one of the vehicles himself.