Hino approval 'soon'
13th August 1987
Page 19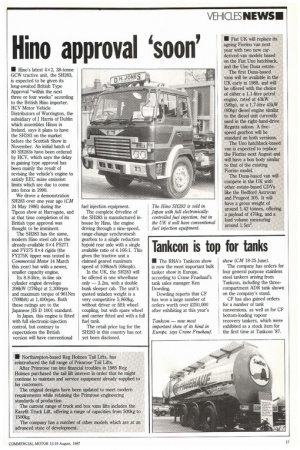 Page 19, 13th August 1987 —
Hino approval 'soon'
Close
• Hino's latest 4x 2, 38-tonne GCW tractive unit, the SH283, is expected to be given its long-awaited British Type Approval "within the next three or four weeks" according to the British Hino importer. HCV Motor Vehicle Distributors of Warrington, the subsidiary of I Harris of Dublin which assembles Hinos in Ireland, says it plans to have the SH283 on the market before the Scottish Show in November. An initial batch of 80 SH283s have been ordered by HCV, which says the delay in gaining type approval has been mainly the result of revising the vehicle's engine to satisfy EEC noise emission limits which are due to come into force in 1990.
We drove a demonstration SH283 over one year ago (CM 24 May 1986) during the Tipcon show at Harrogate, and at that time completion of its British type approval was thought to be imminent.
The S11283 has the same, modern Hino steel cab as the already-available 6x4 ES271 and F1275 8x4 rigids (the FY275K tipper was tested in Commercial Motor 14 March this year) but with a newer, smaller capacity engine.
Its 8.8-litre, in-line six cylinder engine develops 206kW (276hp) at 2,300rpm and maximum torque of 961Nm (7091bft) at 1,400rpm. Both these ratings are to the Japanese JIS D 1001 standard.
In Japan, this engine is fitted with full electronic-injection control, but contrary to expectations the British version will have conventional fuel injection equipment.
The complete driveline of the SH283 is manufactured inhouse by Hino, the engine driving through a nine-speed, range-change synchromesh gearbox to a single reduction hypoid rear axle with a single available ratio of 4.166:1. This gives the tractive unit a claimed geared maximum speed of 1091cm/h (68mph).
In the UK, the SH283 will be offered in one wheelbase only — 3.2m, with a double bunk sleeper cab. The unit's quoted unladen weight is a very competitive 5,860kg, without driver or fifth wheel coupling, but with spare wheel and carrier fitted and with a full fuel tank.
The retail price tag for the SH283 in this country has not yet been disclosed.