UK growth boosts TDG profitability
13th August 1987
Page 13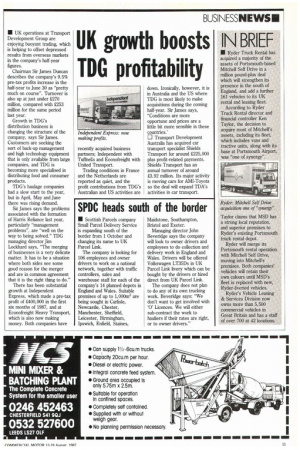 Page 13, 13th August 1987 —
UK growth boosts TDG profitability
Close
• UK operations at Transport Development Group are enjoying buoyant trading, which is helping to offset depressed results from overseas markets in the company's half-year figures.
Chairman Sir James Duncan describes the company's 9.5% pre-tax profits increase in the half-year to June 30 as "pretty much on course". Turnover is also up at just under 2270 million, compared with 2253 million for the same period last year.
Growth in TDG's distribution business is changing the structure of the company, says Sir James. Customers are seeking the sort of back-up management arid high technology equipment that is only available from large companies, and TDG is becoming more specialised in distributing food and consumer products.
TDG's haulage companies had a slow start to the year, but in April. May and June there was rising demand.
Sir James says the problems associated with the formation of Harris Reliance last year, particularly "management problems", are "well on the way to being solved." TDG managing director Jim Lockhard says, "The merging of businesses is a very delicate matter. It has to be a situation where both sides see some good reason for the merger and are in common agreement that it is the right thing to do."
There has been substantial growth at Independent Express, which made a pre-tax profit of 2400,000 in the first six months of 1987, and at Econofreight Heavy Transport, which is also now making money. Both companies have recently acquired business partners; Independent with Tuffnells and Econofreight with United Transport.
Trading conditions in France and the Netherlands are reported as quiet, and the profit contributions from TDG's Australian and US activities are
down. Ironically, however, it is. in Australia and the US where TDG is most likely to make acquisitions during the coming half-year. Sir James says, "Conditions are more opportune and prices are a little bit more sensible in these countries.'
Transport Development Australia has acquired car transport specialist Shields Transport for around £225,004) plus profit-related payments. Shields Transport has an annual turnover of around 23.92 million. Its major activity is moving cars for AMI-Toyota so the deal will expand TDA's activities in car transport.