Deals for small hauliers
13th August 1987
Page 12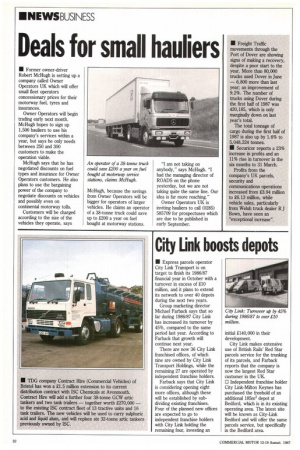 Page 12, 13th August 1987 —
Deals for small hauliers
Close
• Former owner-driver Robert McHugh is setting up a company called Owner Operators UK which will offer small fleet operators concessionary prices for their motorway fuel, tyres and insurances.
Owner Operators will begin trading early next month. McHugh hopes to sign up 1,500 hauliers to use his company's services within a year, but says he only needs between 250 and 300 customers to make the operation viable.
McHugh says that he has negotiated discounts on fuel types and insurance for Owner Operators customers. He also plans to use the bargaining power of the company to negotiate discounts on vehicles and possibly even on continental motorway tolls.
Customers will be charged according to the size of the vehicles they operate, says McHugh, because the savings from Owner Operators will be bigger for operators of larger vehicles. He claims an operator of a 38-tonne truck could save up to 200 a year on fuel bought at motorway stations. "I am not taking on anybody," says McHugh. "I had the managing director of ROADS on the phone yesterday, but we are not taking quite the same line. Our idea is far more reaching."
Owner Operators UK is inviting hauliers to call (0285) 585709 for prospectuses which are due to be published in early September.