JUNE EXPORTS SHOW A SUBSTANTIAL INCREASE
13th August 1948
Page 27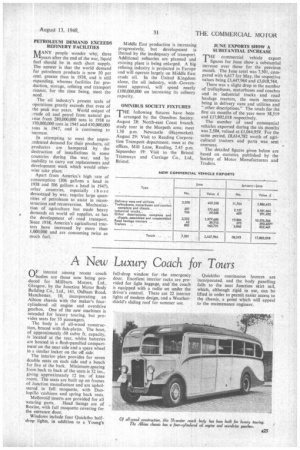 Page 27, 13th August 1948 —
JUNE EXPORTS SHOW A SUBSTANTIAL INCREASE
Close
THE commercial vehicle export figures for June show a substantial increase over those for the previous month. The June total was 7,501, compared with 6,617 for May, the respective values being £3,447,964 and £3,018,744.
There was a slight drop in the number of trolleybuses, motorbuses and coaches and in industrial trucks and road haulage tractors, the main increases' being in delivery vans and utilities and "other descriptions." The totals for the first six months of the year were 38,519 and £17,802,018 respectively.
The number of used commercial vehicles exported during the six months was 2,504, valued at £1,044,959. For the same period, £8,614,782 worth of agricultural tractors and parts was sent overseas.
The detailed figures given below are based on statistics published by the Society of Motor Manufacturers and Traders.