Personal Pars
13th August 1948
Page 26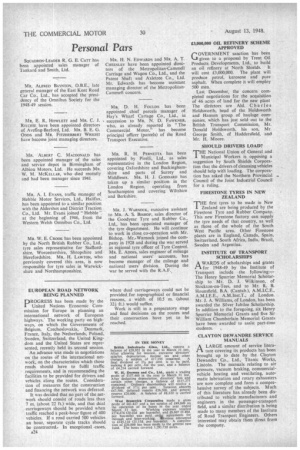 Page 26, 13th August 1948 —
Personal Pars
Close
SQuaoRoN-LEADER R. G. E. CATT has been appointed sales manager of Tankard and Smith, Ltd.
MR. ALFRED BAYNTON, 0.B.E., late general manager of the East Kent Road Car Co., Ltd., has accepted the presidency of the Omnibus Society for the 1948-49 session.
MR. E. R. How= and MR. C. J. RITCHIE have been appointed directors of Aveting-Barford, Ltd. MR. B. E. G. ODDS and MR. FITZHERBERT WRIGHT have become joint managing directors.
MR. ALBERT C. M ACDONALD has been appointed manager of the sales and service depot in Birmingham of Albion Motors, Ltd. He succeeds MR. W. M. MCKELLAR, who died recently and had been manager since 1941.
MR. A. I. EVANS, traffic manager of Hebble Motor Services, Ltd., Halifax, has been appointed to a similar position with the Aldershot and District Traction Co., Ltd. Mr. Evans joined " Hebble " at the beginning of 1946, from the Western Welsh Omnibus Co., Ltd.
MR. W. E. CROOK has been appointed by the North British Rubber Co., Ltd., tyre sales representative for Staffordshire, Worcestershire, Shropshire and Herefordshire. MR. H. LAWTON, who previously covered this area, is now responsible for tyre sales in Warwickshire and Northamptonshire, MR. H. N. EDWARDS and MR. A. T. CHEESLEY have been appointed directors of the Metropolitan-Cammell Carriage and Wagon Co., Ltd., and the Patent Shaft and Axletree Co., Ltd. Mr. Edwards has become assistant managing director of the MetropolitanCammell concern.
MR, D. H. Fouips has been appointed chief parcels manager of Hay's Wharf Cartage Co., Ltd., in succession to MR. N. D. FAWKNER, who, as already reported in "The Commercial Motor," has become principal officer (parcels) of the Road Transport Executive.
MR. R. H. FERNEITA has been appointed by Pirelli, Ltd.. as sales representative in the London Region, covering Oxfordshire and Buckinghamshire and parts of Surrey and Middlesex. MR. H. J. GODDARD has taken up a similar position in the London Region, operating from Southampton and covering Wiltshire and Berkshire.
MR. J. WARNOCK, executive assistant to Ma. A. S. BISHOP, sales director of the Goodyear Tyre and Rubber Co., Ltd., has been appointed manager of the tyre department. He will continue to work in close co-operation with Mr. Bishop. Mr.-Warnock joined the company in 1928 and during the war served as regional tyre officer of Tyre Control. MR. E. Auras, sales engineer of mileage and national users' accounts, has become manager of the mileage and national users' division. During the war he served with the R.A.F.,
Tags
People
:
J. WARNOCK
,
ALBERT C. M ACDONALD
,
H. LAWTON
,
C. J. RITCHIE
,
H. N. EDWARDS
,
G. E. CATT
,
FITZHERBERT WRIGHT
,
D. H. Fouips
,
N. D. FAWKNER
,
E. R. How
,
R. H. FERNEITA
,
ALFRED BAYNTON
,
W. M. MCKELLAR
,
W. E. CROOK
,
A. I. EVANS
,
A. S. BISHOP
,
A. T. CHEESLEY
,
H. J. GODDARD
,
E. Auras