One Hears
13th August 1948
Page 23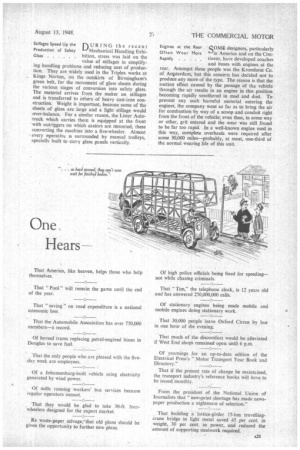 Page 23, 13th August 1948 —
One Hears
Close
That America, like heaven, helps those who help themselves.
That " Pool " will remain the game until the end of the year.
That " saving " on road expenditure is a national -eeonomic loss That the-Automobile Association has over 750,000 members—a record.
Of horsed trams replacing petrol-engined buses in Douglas to save fuel.
That the only people who are pleased with the fiveday week are employees.
Of a Johannesburg-built vehicle using electricity generated by wind power.
Of mills running workers' bus services because regular operators cannot.
That they would be glad to take 30-ft. fourwheelers designed for the export market.
Re waste-paper salvage,'that old plans should be given the opportunity to further new plans. Of high police officials being fined for speeding— not while chasing criminals.
That "Tim," the telephone clock, is 12 years old and has answered 250,000,000 calls.
Of stationary engines being made mobile and mobile engines doing stationary work.
That 30,000 people leave Oxford Circus by bus in one hour of the evening.
That much of the discomfort would be alleviated if West End shops remained open until 6 p.m.
Of yearnings for an up-to-date edition of the Electrical Press's "Motor Transport Year Book and Directory." 0 That if the present rate of change be maintained, the transport industry's reference books will have to be issued monthly.
From the president of the National Union of Journalists that "newsprint shortage has made newspaper production a nightmare of selection."
That building a lattice-girder 15-ton travellingcrane bridge in light metal saved 45 per cent, in weight, 30 per cent, in power, and reduced the amount of supporting steelwork required.