Increased Rail Charges—Cause and Effect V IEWS on the judgment of
13th August 1937
Page 54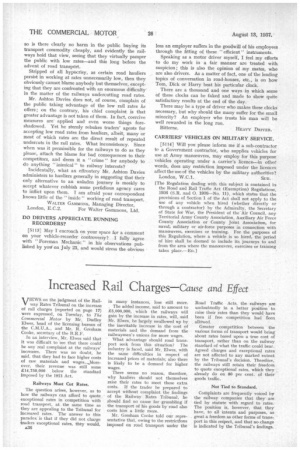 Page 54, 13th August 1937 —
Increased Rail Charges—Cause and Effect V IEWS on the judgment of
Close
the Railway Rates Tribunal on the increase of rail charges (reported on page 17) were expressed, on Tuesday, to The Commercial Motor by Mr. Dudley Elwes, head of the licensing bureau of the C.M.U.A., and Mr. B. Gresham Cooke, secretary of the B.R.F.
In an interview, Mr. Elwes said that it was difficult to see that there could be any real complaint at the railways' increases. There was no doubt, he said, that they had to face higher costs of raw materials and wages_ ,Moreover, their revenue was still some 414,750,000 below the standard imposed by the 1921 Act.
Railways Must Cur Rates.
The question arises, however, as to how the railways can afford to quote exceptional rates in competition with road transport, at the same time as they are appealing to the Tribunal for increased rates. The answer to this paradox is that if they did not charge traders exceptional rates, they would,
a36
in many instances, lose still more. , The added income, said to amount to 45,000,000, which the railways will gain by the increase in rates, will, said Mr. Elwes, be largely swallowed up by the inevitable increase in the cost of materials and the demand from the railwaymen's unions for more wages.
What advantage should road transport seek from this situation? The industry is faced, said Mr. Elwes, with the same difficulties in respect of increased prices of materials; also them is likely to he a demand for higher wages. • There seems no reason, therefore, why hauliers should not themselves raise their rates to meet these extra costs. If the trader be prepared to accept without complaint the findings of the Railway Rates Tribunal, he should find no cause for grumbling if the transport of his goods by road also costs him a little more.
Mr. Gresham Cooke told our representative that, owing to the restrictions imposed on road transport under the Road Traffic Acts, the railways are undoubtedly in a better position to raise their rates than they would have been if free competition had rieen allOwed.
Greater competition between the various forms of transport would bring about rates based upon a true cost of transport, rather than on the railway standard of what the traffic could bear. Agreed charges and exceptional rates are not affected to any marked extent by the Tribunal's decision. Therefore; the railways still retain their freedom to quote exceptional rates, which they , already do on 80 per cent. of their goods traffic.
Not Tied to Standard.
Complaints are frequently voiced by the railway companies that they are tied by statute with regard to rates. The position is, however, that they have, to all intents and purposes, as great a freedom as other forms of transport in this respect, and that no change is indicated by the Tribunal's findings.